Introducing Sex Ed with Ashley Manta
Los Angeles is where people go to become stars. But sometimes, the people who head there are already stars. And that town is lucky to have just received sex ed superstar Ashley Manta.
How did you get into blogging?
I've always loved to write. From the time I was in primary school, I kept a diary. Once the internet happened, I started writing online. I have had the same livejournal since I was 16! After I first told my story about being a sexual assault survivor in 2005, it occurred to me that sharing stories is important for building community. In the past few years, I realized that blogging would reach far more people than I could ever meet in person. I bought a domain and started posting my thoughts, experiences, and ideas in a blog. My goal is to create an online community where people have a safe space to share, support, and encourage one another.
Was there a definitive moment or circumstance that lead you to pursue your interest in sex education?
I was raped by an acquaintance when I was 13. Because of a lack of comprehensive sex education in my school, I didn't understand what SEX was, much less what rape was. As I began to heal, I decided that I would learn everything I could about sex and educate as many people as possible. I read online resources about menstruation and birth control, checked anatomy books out of the library, bought lube and condoms and taught myself to use them, and convinced one of my male friends to teach me how to give a great blow job. Then I shared all that information with my friends. In college I was a Philosophy major, but I took sexuality focused classes in Gender Studies, Nursing, Sociology, and Psychology so that I could approach human sexuality from a holistic point of view. I didn't know that you could DO sex education as a job, even in college, but I pursued it as an interest and did workshops at colleges and universities, usually for free. When I finally discovered the sex positive scene and realized that people were doing this as their career, I knew I could never be truly happy doing anything else.
What are your favourite topics to speak/write on?
My favorite topics tend to be the ones that are closely related to my experiences. As a survivor, I love to teach about sexual assault awareness and prevention. By extension, I also like to talk about consent, sexual communication, and negotiating boundaries. As a person who has struggled with body image throughout my life, I write and teach a lot about body confidence and loving your body regardless of the external variables. I also like to teach workshops that are pleasure-focused. Partner pleasing, solo sex, and intro to erotic sensations are always my most popular classes.
Being able to speak about your own victimization is inspiring. How do you encourage people to ask survivors difficult questions?
I wouldn't encourage people to ask all survivors difficult questions. It has taken me a long time to to a place in my healing journey where I can field tough questions. I have a solid support network in place that allows me to be able to handle the person who asks,"How can it be rape if you were drinking?" or "Why didn't you just scream and run away?" Since I am open about my victimization, however, I encourage readers or audience members to think hard about something they may have been afraid to ask in the past, or something they've always wondered but felt was "too personal" to get into. Those are the questions I want to be able to answer because they're often the same questions that many other people have but are afraid to ask.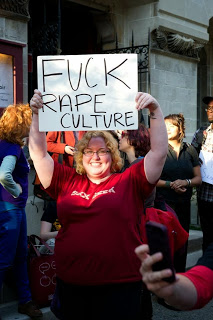 Ashley at Philadelphia's Take Back the Night March
The term "sex-positive" means different things to different people, and has come under fire of late. What does "sex-positive" mean to you?
I wholeheartedly subscribe to the definition of "sex-positive"
given by Dr. Carol Queen
: "Sex-positive…is a simple yet radical affirmation that we each grow our own passions on a different medium, that instead of having two or three or even half a dozen sexual orientations, we should be thinking in terms of millions. "Sex-positive" respects each of our unique sexual profiles, even as we acknowledge that some of us have been damaged by a culture that tries to eradicate sexual difference and possibility. It's the cultural philosophy that understands sexuality as a potentially positive force in one's life, and it can, of course, be contrasted with sex-negativity, which sees sex as problematic, disruptive, dangerous. Sex-positivity allows for and in fact celebrates sexual diversity, differing desires and relationships structures, and individual choices based on consent. A person can be sex-positive if they've never had sex. If they're asexual. If they never intend to have sex. Even if they've had nothing but bad sex."
This definition touches on all of the most important aspects of sex positivity for me: consent, inclusivity, self-identification, and cultural considerations. I think the term has come under fire because so many people call themselves "sex positive" but hold diametrically opposite beliefs. You cannot be sex positive and shaming. Subscribing to a sex-positive belief system means challenging yourself everyday to use inclusive language, avoid generalizations, and always consider the way your words might impact someone.
Who are your sex ed heroes?
I have so many! My heroes are those who embrace and model vulnerability in their work, especially Reid Mihalko, Elle "Lady Cheeky" Chase, The Redhead Bedhead, Cathy Vartuli, and Kate McCombs. These incredible educators put themselves out there every day and give others permission to do the same. Reid was my catalyst for coming out about having herpes! The other cool thing about the people on this list is that they are not just my colleagues but also my friends. We take care of one another, collaborate, support each other's projects, and provide encouragement. We geek out over new sex research, squee about awesome toys, and give hugs when needed/requested. This community is more than just a meeting of minds–it's a family.
At The Pleasure Chest Gloryhole event with Nina Hartley,
Lady Cheeky, The Redhead Bedhead, and Princess Kali.
You work with a couple organizations, Women's Circle Project and Herpes Opportunity. Can you tell us about those groups and how you're involved?
The Women's Circle Project
was founded by Gwen Soffer, a yoga and self-defense instructor, author, and empowerment workshop leader. I met Gwen when I attended a female-focused self-defense class that she was running in February to support
1 Billion Rising
. I loved her energy and stayed after class to chat with her about our goals and ideas. A few weeks later she emailed me and asked if I would like to be involved with The Women's Circle Project, which facilitates the development of powerful, dynamic female leaders in a supportive, healing environment. I happily accepted! My role since moving to Los Angeles has been to act as a West Coast Advisor for Public Relations and Networking.
I stumbled onto the Herpes Opportunity by sheer serendipity. Shortly after attending CatalystCon East, I was talking to Reid Mihalko about wanting to "come out" about having herpes. He suggested that I visit
HerpesLife.com
. It was there that I found Adrial Dale, a workshop facilitator and CTI-certified life coach. He created the Herpes Opportunity movement and leads
3-day workshops
to help herpes-positive people move through shame and into self-acceptance. We immediately set a Skype date and were pleased to find that we had a lot of shared goals and passions. We decided to start recording our Skype sessions and posting them on the Herpes Opportunity
blog
. He also asked me to attend his 3-day workshop as a staff member in order to help others who were struggling with their herpes diagnosis. Adrial is a huge inspiration to me, and I am thrilled to be a regular contributor to the site in the form of blogs and videos. I'll also be a recurring staffer for the 3-day weekend workshops.
We're in a coffee shop and it is packed with a wide variety of sexy people. Who are you looking at and why?
I'm looking at the person who is either reading a good book (good by my standards) or chatting with another person and leaning forward and making eye contact. The good book catches my eye because I am a shameless bibliophile and grammar whore. Those who are well read tend to have the best imaginations and inspire great conversations. The person who is making eye contact and leaning forward in their conversation catches my eye because they are clearly engaged in the conversation. So often we stare at the wall, ceiling, or anything but the person with whom we're speaking! Real authentic connection requires eye contact. Having someone stare into my eyes while I'm talking is beyond sexy!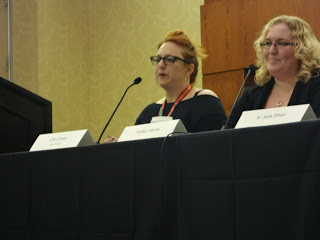 Ashley and Elle "Lady Cheeky" Chase speaking about
body image and sexuality at CatalystCon West
What are you currently working on and what can we look forward to from you in the future?
I'm working on a few things right now. Since I just moved to LA, I'm getting the word out to colleges and organizations about my sex ed workshops. I started offering online sexual empowerment coaching and stress management hypnosis through Skype (or in person, if the client is in the Greater Los Angeles area). I'm also blogging for a few websites and cultivating an online community around my own blog. I just got back from a whirlwind weekend at CatalystCon West where I spoke on a panel about body image and sexuality. I met a lot of amazing people at the conference and I'm looking forward to collaborating on projects in the coming months!