Welcome to the first in my new series of Sex Blogger profiles—
The Hook-up
. People write about sex in many different ways, and I hope to bring many of them to your attention—and potential—adoration.
I was drawn to this blog by both the stunning visuals and the charged writing. Because browsers can now instantly translate pages (I'm Canadian, but sadly, I did not keep up with French studies), I am fortunate enough to be able to read these works. And I am glad for it!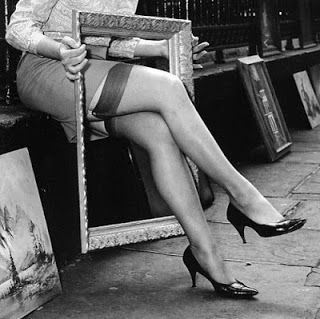 Why did you start your blog?
I started my blog after less than a year following my bachelor's degree in theatre. I had to somehow nourish my need to create. Since the cultural scene in Montreal is harsh and the market very small, after a short but decisive depression, I decided to put my career as an actor aside (not completely giving up, but…). When I stared my blog, it all seemed so distant, that sorrow or nostalgia, and I discovered a passion that I had, yes, but never exploited.
What inspires your erotic writing?
At first, I wanted to write about me, my take on love and life in general… But, I soon realized that erotic literature made me feel good. It made my writing easier, pleasant and original. I wrote, in a much more elaborate way, on how the transition to erotic writing happened and why
in this post
(in french, but I hope you can have a peek 😉
How long have you been creating erotic art?
I started my blog in July 2010, but really started to qualify it as an erotic blog 2 or 3 months later.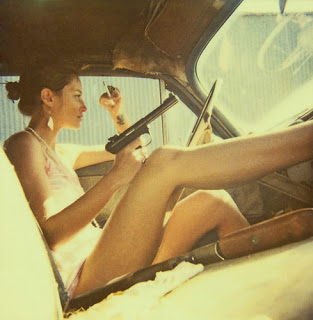 Why do you think it is important to blog about sexual topics?
I can't say if I think writing about sexual topics is important or not, all I know is that it makes me feel good. My imagination goes naturally there and I guess the mystery and intimacy of those topics fascinate me. Maybe as a way of knowing myself, my deepest desires and fears…
Have you ever run into any difficulties with your sex blogging?
I never really ran into difficulties writing on sexual topics. On the contrary, my writing became stronger, more confident with it. I discovered my style in a way. Although, at first, I was very shy to say what my blog was about to family and friends ; )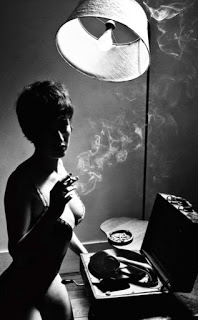 What are some of your favourite "bawdy anecdotes" to share?
My own : ) The ones with an unexpected twist! I feel that when I write about my own experiences I first get a sense of what that experience meant and also a stronger sense of who I am.
But, I guess, I like to write about violence in sex… A dark side of my own sexuality that, with my writings, I try to understand or at least fully accept.
You occasionally venture to other topics, what are some of your favourite non-sex topics to write on?
My favorite non-sex topic is love! Or the duality between love and sex. With the
Printemps Érable
, I started writing about politics, which was kind of a surprise even to myself!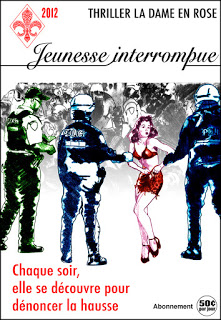 What are you goals for your blog? Your art? Your writing?
My goals are, I guess, the same for most bloggers, I would like to get some recognition 🙂 But really, I would love to find a way to brand La Dame en Rose as a product, from anything to imagery to clothing and accessories.. But I need first to come up with a real plan!
Otherwise, some day I wish to be published.
What can we look forward to seeing on La Dame en Rose in 2013?
For 2013, I'm looking, in fact, to building that plan. Work more on my visual art, dabble into photography and give LDeR a face maybe… And surely, offer more salacious stories 🙂