There is no better way to introduce this new Sex In Words feature section than by reviewing a new instructional DVD by one of the most influential sex educators in the world today.
Sex Schoolin' Review: Tristan Taormino's Guide to Kinky Sex for Couples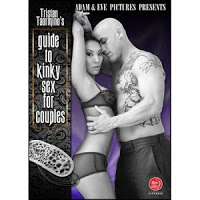 I have followed Tristan Taormino's work for more than a decade and have always been impressed. Impressed by her work, her dedication, and her in general. I've enjoyed the opportunities I've had to interview her and I always enjoy her work.
Tristan Taormino's Guide to Kinky Sex for Couples is no exception.
Picking up the cue of sexual society's most groundswell moment, this new video fully acknowledges the influence of Fifty Shades of Grey. People are more interested in learning about kink and maybe trying it out for themselves. And if they just jump into the wilds of the Internet and start searching 'kink' or 'BDSM', chances are that many "regular" folk will end up more turned off by the wide, WIDE world of sex and it's many different iterations.
Kink and BDSM can be very intimidating and it is very easy to find advanced techniques and activities that might set the newcomer off into a world of play that they are not ready for—physically, psychologically or emotionally. Which is why a video like this is a must have for players just dipping their toes in kink waters.
As always in Tristan's work, the advice and instruction is demonstrated in very hot scenes by prominent porn performers. These great vignettes provide not only a sexy, visual element to education, but also great porn moments! However, it is the talk—by both Tristan and the performers themselves, that is between the action that is key.
Tristan is—without a doubt—one of the great presenters of sex education. Her presence, her politics, her passion—all create a fantastic experience for the viewer. You know, right from the beginning, that you are being taught by someone with boundless knowledge and even more enthusiasm. For so many of us, sex education was a sterile, confusing experience. Not so here!
As with most great sex—and kinky sex, in particular—the video starts off with much talk from both Tristan and the cast. I am sure this was entirely intentional, a device to mimic how we should approach kinky sex, as beginners. There is also much talk between sexy segments. Many, many themes are explored throughout the video, with many definitions, techniques and toys being discussed and demonstrated. Beginners are getting a very thorough introduction here, one that will likely make this video a start and stop—and then watch over and over adventure.
Some of the topics explored throughout Tristan Taormino's Guide To Kinky Sex For Couples are:
light bondage, including collars
sex toys, including nipple clamps and massage oil candles
sensation play, including blindfolds
light rough play, including spanking, hair-grabbing
dominant/submissive roleplay, including sexual service, power dynamics
communication, including safe words and non-verbal communication
When something new and exciting, like
Fifty Shades of Grey
comes along that pushes boundaries, it is essential that experienced and steady hands are there to guide. with
Tristan Taormino's Guide To Kinky Sex For Couples
, you'll be lead into a new world by a hand that is strong, skilled and fun. And you just might like the leash Tristan leads you by.