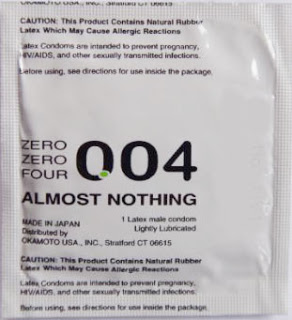 Okamoto 004 Condom provided by Lucky Bloke
Now, this is a bit of an odd review to write considering I haven't actually used a condom in over four years (hello long-term monogamous relationship). Nonetheless, I was curious to see what the world of wrappin' it up has to offer so I dipped into a fantastic variety pack supplied by Lucky Bloke and rolled on a Okamoto 004 Condom.
To be frank, the Okamoto 004 feels just like condoms have always felt—like a condom. There's no way to get around that. However, if you are going to use a rubber, the Okamoto 004 is an excellent choice.
I wondered just how much sensitivity I would lose after having not used a condom in so long. And sure, I didn't have access to all of my lady's lady bits, but I was pleasantly surprised by just how much I could feel.
The Okamoto 004 is dubbed a microthin condom and it lives up to the name. In particular, I found the fit of the latex—and subsequent friction—around my cock head was very stimulating. On the other hand, I did note some loss of tingly goodness on the shaft. So, some good, some bad.
Overall, my dip back into the world of safer sex was a pleasant return. If I were regularly seeking sex with other people, I would keep a supply of Okamoto 004 on-hand.
As per FTC guidelines, I received my sampler free of charge in exchange for my honest assessment of the product.