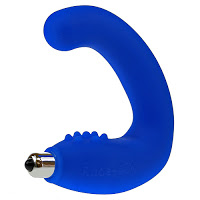 Sometimes rude boys are the ones who have all the fun. Othe times Rude Boys are the ones giving all the fun. And pleasure. And orgasms. The Boy line of dual prostate and perineum stimulators from Rocks-Off are a fantastic combination of sensations. Working yours or someone else's prostate from both the inside and the outside is intense. In the past would have required two different types of toys and some slightly difficult angles.
No worries on that front with the Rude Boy. As you can see, the same is perfectly suited to reach both p-spots with ease. Personally, I have found that it is best used while lying on your back. I found it harder to get the right angle for prostate pleasure when I moved in different ways. But laying back and taking it…that was hot.
Because it comes in only one speed, you are a bit limited in your vibrations. Hopefully you enjoy the provided setting as much as I did. The Boy series comes in different shapes and sizes (I'll be reviewing another soon) so you are sure to find one just right for your butt. And Rocks-Off toys are great products made from quality materials. No need for worries about what you are putting in your ass.
If you are looking for a wild and new experience, make friends with this Rude Boy.