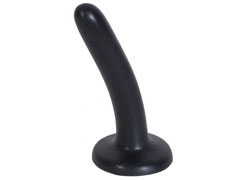 So far I've reviewed a couple of toys from Happy Valley, The Pip and The Tango. The former is great for a beginner who is looking to get into ass play, giving or receiving. The former is definitely for the more advanced ass explorer, but wow it is fantastic for pegging (as well as vaginal strap-on fucking).
Need something for that in between phase?
Check out Happy Valley's The Probe. Here's another multi-use product from the great Canadian toy company. If you're considering this toy for pussy pleasure, it succeeds because it is a great length and has just the right curve. While not likely to be considered the finest of G-spot stimulators, it is more of an indirect tool that gives some good feelings to that area while being used as a more traditional fucking toy.
Where I think The Probe excels is as an anal device. Made from Happy Valley's always top-grade silicone, this toy is silky smooth and designed to slip easily into an eager ass. Unlike The Pip, this step-up toy will let you go from trying out anal sensations to really feeling the pleasure. The base is great for either hold in your hand or in a harness. Coming in at 7/8″, I find this one to be a great warm-up toy before moving on to something bigger. However, if this is what your or your partner's ass can handle at this point, then go wild!