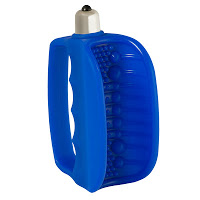 Is it possible to love the idea of a toy, but not so much the execution?
Don't get me wrong, Rocks Off's Hand Solo is a superior product. It is made from quality silicone and comes with a good bullet vibe. Rocks Off has a great reputation. But I was literally a bit confused about how to use Hand Solo on my cock.
Let me explain. As you can see in the photo, you hold the toy through the handle and wrap it around your cock. Many nubs line the inside for increased sensation.
All of that–no problem, but here's where I have difficulties.
My first instinct was to wrap my fingers all the around my cock, encasing it in silicone. I applied a generous amount of lube, but the nubs didn't seem to glide well. It was also difficult to get my fingers on a comfortable position because of the position of the handle. This just wasn't doing it for me.
So, I tried something different. I let my fingers follow the shape of the toy instead, concentrating pressure on the sides of my penis. This was good…but not enough. Again the nubs felt awkward and out of place. This is my personal preference for sure. I'd prefer something different–softer and more like a Fleshlight. The vibe is a great addition though, it was feeling good.
My third attempt was decently pleasurable, but again, not enough. I moved Hand Solo to the underside of my cock and rubbed it, pushing my cock back against my body. Again, decent but not enough.
Eventually I decided I wanted to get off and went back to method #1. It was good, but too much work went into that cum.
My conclusion is that my body just isn't a good match for a Hand Solo. If my fingers were a bit longer, the wrap around would be more comfortable. If my penis were thicker, it would fit in there better.
So, like many other sex toys out there, Hand Solo really is one that may or may not work with your body. Maybe moreso than most toys. But I bet that if it works for you it is fantastic.