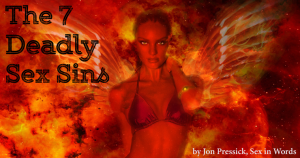 This was a hard one to write. Anger, is a challenging subject to deal with in relationships, sexual or otherwise. This month's addition to the Seven Deadly Sex Sins series on Cara Sutra explores sexual wrath. But is it possible to turn wrath into a possible? Can releasing angry energy be turned into something that compliments sex?
Check out Maybe We Should Go to Bed Angry
Past posts in the series
Envy: Is the Ass Greener on the Other Side?
Greed: All the Want, All the Time
Sloth: Have Great Sex…When You Get Around To It
Gluttony: Is Your Bed Too Big?