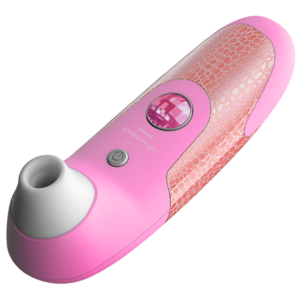 This is the sex toy that has the world buzzing. Well, not really buzzing, because that is not what the Womanizer is about.
---
Learn more about the Womanizer when I interview a rep from the company Tuesday May 3 on Sex City!
---
When you spend a lot of time with sex toys and products, it is easy to expect certain standards. The creme de la creme of the sex toy industry tend to be sleek with minimal design, meet body safe requirements, feature sturdy construction and boast a distinct name. These are the hallmarks that often signify the arrival of a quality product.
Well, the Womanizer hits one of those pillars…it also happens to be an extremely pleasurable product.
To be clear, I'm reporting the experiences of my partner. I don't have a clitoris—the anatomy the Womanizer is specifically meant to pleasure. So, while I may not be a fan of the name or design and worry about the long-term sustainability of the construction, I am not, ultimately the market for the product. So, I sat back with pen (yeah pen) in hand and observed.
And what did I see? I saw pleasure. I saw orgasms. I saw smiles.
As she's not big on flowering description, my partner described the Womanizer a couple of different ways. The first time I used it on it and while she did enjoy it, she deem the sensation "a bit weird." This could be because it does not feel like a traditional vibrator. Instead, the Womanizer uses "pleasure air technology" and can, apparently, allow people with sensitive clits the possibility of orgasm without actually touching the toy to their body. That would be pretty remarkable, but wasn't our experience.
On another day, she used the Womanizer on her own and thoroughly enjoyed it. No weird feelings at all this time. I noted that she did experience one of the quicker orgasm I've seen her enjoy. Featuring 5 speed settings, she got up to number 3 and rode that wave to pleasure. She's curious to try more powerful settings but hasn't made it there yet.
One observation my partner made contradicts one of my preconceived opinions on what a quality sex toy should be. She liked the lightness of the toy. I fear it might not last in the long-term because of that, but she enjoys that it isn't as heavy as other items in our pleasure chest. Time will tell.
As noted, the Womanizer directly and specifically stimulates the clitoris, so it is a specialized toy. If this type of stimulation does not appeal or work for you, then this toy might not be a good fit. Because it does feature a good range of speed settings, I do think there is the potential for pleasure for people along both ends of the spectrum of clitoral sensitivity.
In the end, The Womanizer is a perfect example of the old maxim "don't judge a book by its cover." This is a very good addition to your collection!
This product was provided free of charge in return for an honest review.