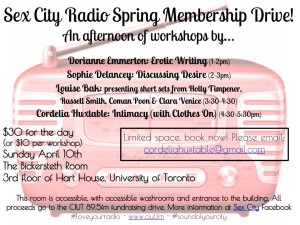 Sex City Hosts offer up workshops in support of CIUT's Spring Membership Drive – support grassroots community radio while learning sexy skills!
Sunday, April 10 at 1 PM – 5:30 PM
$30 for the day (or $10 per workshop)
Limited space, book now! Please email: cordeliahuxtable@gmail.com
Schedule (see below for descriptions):
– Dorianne Emmerton: Erotic Writing (1-2pm)
– Sophie Delancey: Discussing Desire (2-3pm)
Break
– Louise Bak: presenting short sets from Holly Timpener,
Russell Smith, Coman Poon & Clara Venice (3:30-4:30)
– Cordelia Huxtable: Intimacy (with Clothes On) (4:30-5:30pm)
Location: The Bickersteth Room, 3rd floor of Hart House, University of Toronto.
This space is accessible, with accessible washrooms and entrance to the building. All proceeds go to the CIUT 89.5fm fundraising drive.
#loveyourradio – www.ciut.fm – #soundofyourcity
Erotica Writing:
Dorianne Emmerton will lead this fun and interactive workshop on erotica writing, providing you tips and pointers, leading discussion topics, and ending with a writing exercise. (No one will be forced to share their work.)
Potential discussion topics:
– How explicit does consent have to be when it's fiction?
– Should I use a pseudonym when publishing?
– There are only so many words for "cock" how do I stop repeating myself?
Suggestions for other discussion topics are welcome!
Bio: Dorianne Emmerton has short stories in the Friend. Follow. Text#storiesFromLivingOnline anthology, the Beer And Butter Tarts journal, and a personal essay in A Family By Any Other Name: Exploring Queer Relationships. Her erotica can be found in Best Women's Erotica 2012, Up & Coming Magazine, and online at MetAnotherFrog.com and ForTheGirls.com (pay site.) She is a theatre reviewer, a host of the Sex City radio show, and a general Queer About Town.
Sophie Delancey: Discussing Desire and Fulfilling Fantasies
This workshop will help you to identify, explore and enact your fantasies safely and respectfully. We'll go over the basics of how to know when something piques your interest, how to research and find content reflective of exactly what you want to see, how to contend with and explain taboo desires, better practices for exploring BDSM, how to role-play a scenario using improv techniques, expectations vs. reality of fantasy fulfilment and how to navigate all of this both solo and with one or more partners. We'll also engage in discussion of additional topics at the end, so this you'll have a chance to ask any burning questions you might have about how to get the most out of your fantasy life as well as how to make them happen.
Louise Bak: presenting short sets from:
Holly Timpener has had the pleasure of showing her work all over Canada. She performed in Nuit Blanche Toronto, working with 50 performers creating a moving glacier, taking over the Queens Quay for 12 hours, traveled to New York to present her work in the Itinerant Festival, and had a performative installation at Gallery 1313. Most recently she performed a 6 hour work in the Duration and Dialogue festival entitled HOLD.
Russell Smith is a novelist and cultural commentator. His most recent book, Confidence, was nominated for the Giller Prize and the Rogers Writers Trust Prize. He writes a weekly column on the arts in the Globe and Mail.
Coman Poon is a Toronto-based interdisciplinary artist, activist, curator and producer working within context of decolonization and intercultural exchange. He actively collaborates with artists, social and environmental justice activists, academics, filmmakers, photographers, video and sound technicians, poets and writers, architects and builders to realize his diverse local and transnational initiatives. His live and visual art practice currently explores the 'ritual body' in relationship to natural and built environment.
Clara Venice is is one of the only people in the world that play the Theremin as a proper instrument, which adds an emotional and haunting diversity to her music. She has performed around the world, joined the Barenaked Ladies on their 2014 Cross-Canada tour, and has been showcased at the Music Festival of Beja, The One Man Band Festival, Just for Cats Festival, Word on the Street, NXNE, Spur Festival, IngenuityFest, and Beakerhead.
Intimacy With Clothes On:
This workshop supports participants to connect intimately with each other, in ways that aren't explicitly sexual. Based in tantric spirituality, as a group we sit and breathe, move to music, mirror each other's movements, and then finish the workshop by gazing into each other's eyes. This workshop is designed to help you nourish your own sensuality and find authentic, intimate connection with others. Nothing is compulsory, personal boundaries are upheld and encouraged.
Bio: Cordelia works in the fields of sex, movement, and community building in Toronto. She works with Planned Parenthood Toronto, Toronto Rape Crisis Centre/Multicultural Women Against Rape and YMCA Toronto as an educator, yoga teacher and peer crisis counsellor. She co-founded the community Sex Geekdom Toronto and is a host on Sex City radio. Originally from New Zealand, she feels equally at home in the ocean as she does on city streets.www.cordeliahuxtable.com