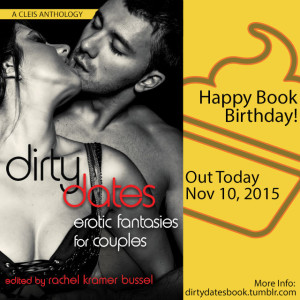 Nothing like spending your birthday in style! Many big birthday wishes to the inimitable Rachel Kramer Bussel! It isn't very often that the birthday person is the one doling out gifts, but to celebrate, Rachel is giving all of us present—the release of her latest anthology Dirty Dates: Erotic Fantasies for Couples (Cleis Press)!
This searing hot collection features some of the biggest names in erotica including Jade A. Waters, D.L. King, Ezrabet Bishop and more! Exploring kink and BDSM, Dirty Dates brings many different representations of what those concepts means. As Rachel explains in her Introduction, "like so many aspects of sex, "kinky" is in the eye of the beholder." And your eyes will be in for a feast of fetish, fantasy and fun as you move from one delicious tension to the next throughout these stories.
Click here for more information on Dirty Dates: Erotic Fantasies for Couples.