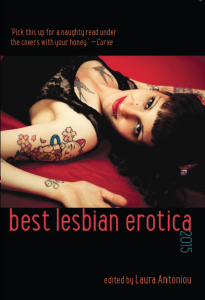 What a debut! The incomparable Laura Antoniou has taken the reins of hot erotica institution with the recent release Best Lesbian Erotica 2015. And from what we can read, including this exclusive excerpt from Andrea Dale, the series is in good hands.
Still Flying by Andrea Dale
The cute redheaded flight attendant takes my empty glass as the door closes. She smiles, oblivious to my turmoil, turns away.
I've tried Valium, other drugs, and I hate them almost as much as I hate flying. It's that loss of control thing. The only thing that calms me down, that grounds me (hah) is Mindy. I feel safe with her—and I recognize the dichotomy, because Mindy will push me to the extremes of my limits, test whether those limits are my true boundaries. I don't know how she'll play with the edges of pain and pleasure, humiliation and delight, fear and rapture.
And yet, I feel safe with her because I trust her. I trust her to recognize which breaking points drive me to new heights and which would be too far. I trust her to take care of me.
Now, Mindy has entrusted Cerys with my care.
But it isn't the same. Cerys isn't Mindy, doesn't have that calming, safe quality that Mindy—the plane vibrates, engines engaging as it poises for taxiing down the runway, and my breath catches—and Cerys's hand comes down on my forearm, her fingers encircling my wrist with a grip more final than metal cuffs. My breath catches for a different reason. I sit up straight in my seat before I realize I've moved.
"Now, here's the thing," Cerys says, her lips near my ear, her voice lower than necessary given the rumbles of the plane. "I know you understand what's going on. You're a pretty thing, and you're mine for this flight, to do with what I please."
She must have thumbed the remote to the vibrating bullet, because suddenly my panties are humming. Not just a taste like before; this time, she leaves it on. I know it's the lowest setting— although immediately arousing, it isn't enough to get me off. (Still, the sound—could anyone else hear?)
How high could this thing go? What would it…she…do to me?
I shudder. Public orgasms are my albatross, my most hated delight.
Mindy knows that—had exploited it on multiple occasions.
Which means Cerys knows it, too.
"We have several hours," Cerys murmurs into my ear, her voice light and airy and innocent to everyone but me, who heard the power, the control, "so you might as well sit back and enjoy it. I haven't yet decided if I'm going to make you come, or keep you on the edge the whole time…or even make you come again and again until you beg me to stop. I saw you look at the pretty flight attendant—what would you do if I told you to get her phone number? What if I told you to tell her, in great detail, about the vibrator spreading your sweet, pink pussy lips, snugged up against your quivering clit?"
I squirm in my embarrassment and arousal, staring at the seat back in front of me. The plastic screen, showing the end of the safety message, slides to an ad for the in-flight movie.
I barely see any of it, my mind's eye on the thoughts of the flight attendant's full lips parting, her eyes widening in astonishment at my predicament. Would she be disgusted? Excited?
And then there's Cerys, so cool and calm, whispering the filthy images while looking the epitome of the proper businesswoman. To anyone else, her hand on my wrist probably looks like she's comforting me. To me, it's as good as an iron shackle.
Suddenly the vibration between my thighs stops. I almost cry out from the lack of it, pressing my lips together at the last moment to catch the sound. Cerys chuckles.
And I realize I've completely missed our takeoff. We're already in the air.
Pick up Best Lesbian Erotica 2015 at Amazon and Barnes and Noble.