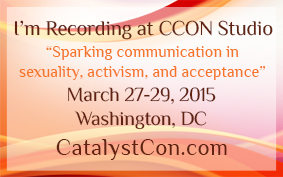 I am very happy to announce that I will be broadcasting a very special edition of Sex City from Catalyst Con East!
We will be hitting the road, travelling down to Washington, DC for a weekend of sex education and fun as part of this annual, awesome event.
You can tune in to a special airing of Sex City on SATURDAY MARCH 28 at 5PM on CIUT 89.5FM (on air and streaming) to catch my conversations with three of the most fascinating people in the world of sex:
Check out this exciting, special, sexy presentation of Sex City Saturday March 28, 5pm!
Podcasts
Sex City on Facebook
@sexcityradio
Program Info
CIUT on Facebook
@CIUT895FM
sexcityradio@gmail.com
Stream Live