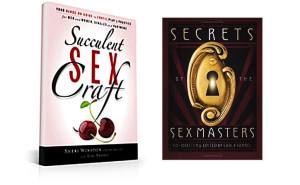 Launch of "Secrets of the Sex Masters" and "Succulent Sexcraft"
Thursday, November 13
7:30pm – 10:30pm
The Ossington
61 Ossington Ave
You are invited to a Sexy Book Launch, Mini- Class and Party to celebrate the launch of our two hot new sex books:
**Succulent SexCraft: Your Hands-On Guide to Erotic Play & Practice by Sheri Winston
**Secrets of the Sex Masters by Carl Frankel with Carlyle Jansen, Jon Pressick, Sheri Winston (and others)
Come help us celebrate! Bring your friends! Spread the WORD!
Admission is FREE! (Cash bar)
DJ Jon Pressick
Join us any time! ALL FREE! ALL FUN!
* 7:30 pm: Educational Teasers and Ask the Sex Masters … Anything with
Sheri Winston
Carl Frankel
Jon Pressick
Carlyle Jansen
*8:30-10:30 pm: Schmoozing and dancing with DJ @Jon Pressick
Our books will be available with special party pricing. Plus, we'll be offering fun prizes and freebies!