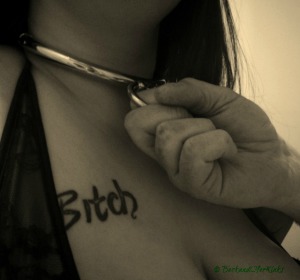 Refreshing. Open. Honest. These are some of the words I'd use to describe
Beck
and her wonderful site Beck And Her Kinks. Her approach to sex, toys and review is unique and engaging. Her photos are compelling and inviting. Her words are genuine. It was a pleasure to learn more about Beck and her work.
How did you get into sex blogging? 
I started out writing sex toy reviews for a company and eventually branched out into blogging. I originally set out to only be a sex toy review blog, but when I found the sex positive community and the glory of photography—I quickly evolved into a sex blogger.
Your sex toy reviews are unique and creative! What is your first thought when opening up a new toy? 
When I first open the package…I'm usually very excited to see what is inside. Sometimes I know exactly what the item is in the box and other times I have no idea. I love that thrill of getting something new. My mail person probably doesn't appreciate it since they have to bring me so many boxes. When I first open up the toy itself—I'm making mental notes for my review. What does the material feel like? Does the toy smell? Does the design seem practical? Once I have the item in my hands, my next thought is usually about how it perform or finding batteries to feel the vibrations in my hands.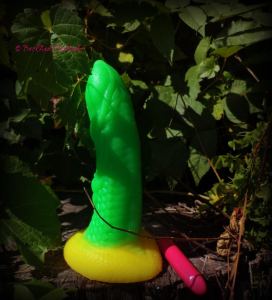 Do you have a current favorite toy? 
I have to pick just one? Oh no! I really can't limit myself to just one sex toy. When I masturbate, I need one dildo and one clitoral vibrator. Right now, I love my
WeVibe Tango
and my
Exotic-Erotics Hippocampus
.
Sex blogging is more popular that ever these days. What one piece of advice would you give someone starting up a new blog?
Self host. Self host. Self host. Your content is just that—your content. Don't go with a .weebly, .blogspot, .wordpress, etc. blog because you don't have total control over your content. If you don't self host, your content can be pulled down at any time and often adult/mature content is against the terms and conditions. Save yourself the headache and self host. You can find so many coupons and discounts where your hosting and domain cost is less than $25 to start and your monthly fee is less than $10 a month. This is a small price to pay to have peace of mind that your content will remain as it is.
With all the competition out there, is it possible to monetize a sex blog these days?
It is possible, just harder since there are so many others. You just have to appeal to your audience and create unique content to draw them in.
You participate in a number of the popular sex memes—do you have a favourite? 
Sinful Sunday
without a doubt. Sinful Sunday is where my photography journey began and it has helped me evolve into the photographer I am today. Sinful Sunday has also helped me accept my body as it is which hasn't always been easy for me. I look forward to Sinful Sunday every week and make sure to take the time to comment on every entry.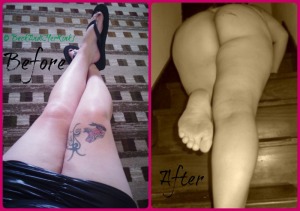 Much is written about sharing images of ourselves online. Have you always been comfortable sharing (awesome) sexual photos of yourself?
No, I wasn't. I started off taking images of my husband and of my legs in heels. I eventually grew more comfortable and now do full nudes.
Who are some of your sex blogging inspirations?
What can we look forward to from you in the future? 
Hopefully more boobs, more full nude images, and more writing involving my relationship. I've slowly limited down the number of sex toy reviews I do because I want my blog to be about me and my life. Not just what I masturbate with. I'm slowly getting there.