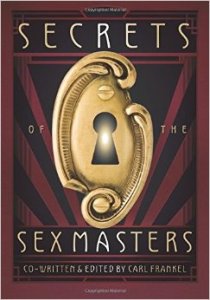 I am delighted to let everyone know that you can now learn all of the Secrets of the Sex Masters! This remarkable collection of sex tips, instruction, anecdotes and fun is now available on Amazon! I was lucky enough to contribute the chapter on anal sex (yay!) and I have to praise editor Carl Frankel on the fantastic job he's done in collecting this tremendous bank of knowledge.
Check out this line-up of Sex Master contributors: Carl Frankel, Megan Andelloux, Jaeleen Bennis, Charlie Glickman, Ernest Greene, Nina Hartley, Carlyle Jansen, Joseph Kramer, Reid Mihalko, Eve Minax, Caroline Muir, Charles Muir, Tallulah Sulis, Patricia Taylor, Michael Winn, Sheri Winston. WOW!
I am very grateful to have my words included in Secrets of the Sex Masters…and I think you will be very grateful when you read all it has to offer!