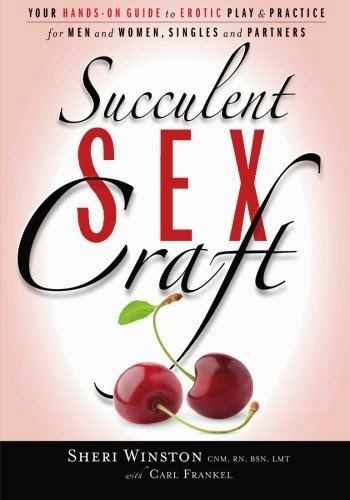 **EXTENDED TO OCTOBER 12!!!**
Would you love to be having the most fabulous sex possible? Do you want to be the lover of your partner's wildest dreams?
Then my colleague Sheri Winston's new book, Succulent Sexcraft: Your Hands-On Guide to Erotic Play and Practice is for YOU!
Do you love getting free stuff? Gifts that can help you have an (even more) amazing sex life?
Buy her new book in the time-limited 3-day window of September 14-16 and more than $700 worth of extra goodies are yours completely FREE!
Sheri's new book Succulent Sexcraft: Your Hands-On Guide to Erotic Play and Practice is packed with information about how to improve your bedroom skills—you can even become a sexual virtuoso! This treat of a book is well-written, packed with play and practice exercises—it even has lots of erotic art images (both vintage and contemporary). It's a brilliant, integral, wholistic, hot and juicy educational romp!
If you don't already know about Sheri, her previous book is one of my all-time favorites. I recommend Women's Anatomy of Arousal: Secret Maps to Buried Pleasure. It won a national prize and has gotten almost 80 rave reviews on Amazon.
If you buy Succulent SexCraft on September 14, 15 or 16, you'll qualify for over 20 free gifts from some of the world's greatest sex and relationship teachers. Gifts like free e-books, free online classes, free teleseminars … free consults, even! Details here.
That's right—buy Sheri Winston's Succulent Sexcraft book in the three-day launch window and get hundreds of dollars of free goodies that will collectively kick your sex life into the next gear. How cool is that?
Just
click here
to find out more and get a reminder of the three-day buy window so you can get the book and all the goodies!