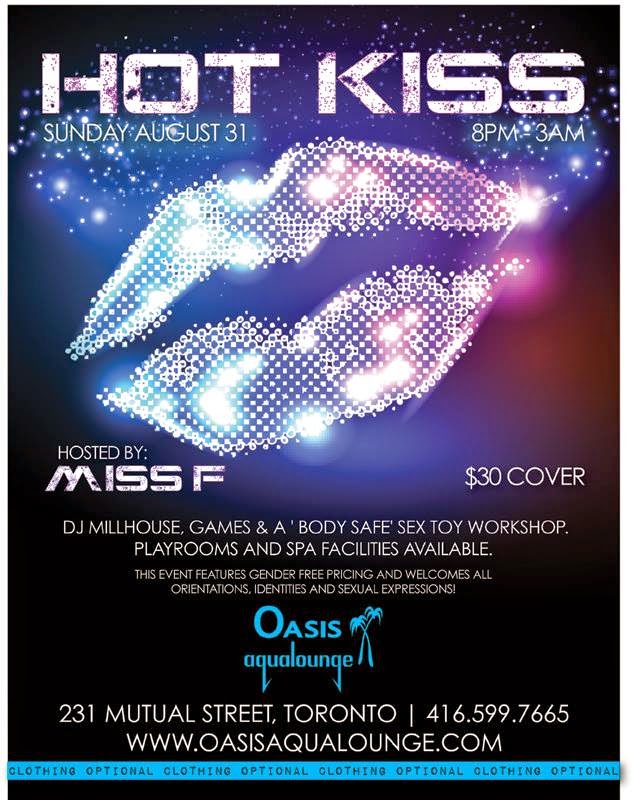 Hot Kiss! An inclusive, queer-friendly bi-monthly jammy-jam!
Sunday, August 31
8:00pm – 3:00am
Oasis Aqualounge
231 Mutual St, Toronto
On Sunday August 31st, join us for 'Hot Kiss' -an inclusive event for all genders, orientations and identities! One gender-free price of $30 per person.
Singles, couples, partners, triads, poly groups and everyone in between is welcome!
We are excited to announce that Woodbutcher will be playing a live set at this event! Get rowdy with this genderfuck, punk rock drag band and move your body to some killer 'queerabilly' tunes! www.woodbutchermusic.com.
Enjoy a 'body safe' sex toy workshop, ft. 'Anna-Lovedreamer's local "Pyrex-pert'!" Anna can also be found at the Lovedreamer booth at this year's Everything To Do With Sex Show and Sexapalooza!
Special birthday greetings to Blair Ryder! We are excited to show one of Canada's top 5 T-Girl models and special friend of Oasis Aqualounge some love. Bring cake, kisses and follow this beauty on Twitter! @BlairRyderx
Music by DJ Millhouse. Hosted by Miss F!