'Pop Your Picnic Cherry!' —Annual Customer Appreciation Picnic
July 26, 2014 @ 11:00 am – July 27, 2014 @ 3:00 am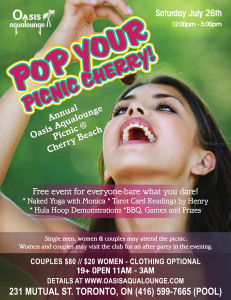 Women $20, couples $80-picnic is free for all guests
Join us at Cherry Beach on Saturday July 26th for 'Pop Your Picnic Cherry'—our annual customer appreciation picnic. From 12:00pm-5:00pm, enjoy Naked Yoga, tarot card readings, a hula hoop demonstration and a BBQ. We welcome you to bare what you dare!
Single men, women and couples are welcome to attend this event and it will be free of charge
Any women/couples who pay the cost of admission to the club and wish to return that evening will receive free transportation from Oasis Aqualounge to Cherry Beach and back to the club. Transportation will be leaving around 11:30am that afternoon and will return around 5:00pm.
The evening will feature an after party at the club and will be open exclusively to women and couples.
Henry Kestler will continue to offer tarot card readings throughout the evening, which will be free by donation! Visit his table and see what the cards have in store for you!
Oasis Aqualounge will be open from 11:00am-3:00am. Women and couples only.
Women-$20, couples-$80