Ohhh Summer Workshops: Talking Dirty with Katrina McKay
Ohhh Canada
Tuesday, July 15, 2014 from 7:30 PM to 9:30 PM (EDT)
721 Queen St. W., Suite 201 on the 2nd Floor
Toronto, ON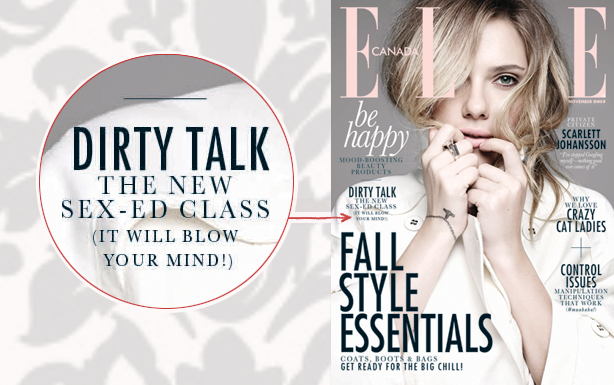 This workshop was featured in a cover article by Elle Canada Magazine!
Back by popular demand!
Whether you're an amateur or a long-time sex talking pro, this workshop will give you new tools in your arsenal of words that woo and whet appetites. Get over your inhibitions, spark your creativity and boost your bedroom sweet talker self-confidence.
What Will I Get Out of the Workshop?
– Different types of sexy talk; figuring out what works for you and how to "work it"
– Learn brand new vocabulary that will put the sizzle into your sexy impromptu stories
– Techniques for getting over "stage fright"
– Practice reading erotica out loud and using it as inspiration for both talk & action; all guided by your favourite quirky "sexpert"
– Breaking the ice and learning to seduce with words…or perfecting your sexy oration if you're already a pro!
– Participate in fun giggly exercises that will inspire you to unleash your sexiest self
– Giveaways & freebies from Ohhh Canada just for participating!
Who Should Attend?
All genders and sexual orientations are welcome, and you don't have to have a partner to participate…singles are definitely welcome and will likely be in the majority on this one.
About Katrina McKay, owner of Ohhh Canada & "Sexpert"
Katrina is a quirky serial entrepreneur, who is quickly become a go-to person for publications like the SUN, Huffington Post and more for her fun, sexy advice. The owner of Canada's friendliest fashion-forward sexual lifestyle boutique, Ohhh Canada, Katrina talks sex all day every day…and loves every minute of it. A professional sought-after speaker, Kat talks about all things sexy to audiences around the world.
About the Workshop Format
Very small group size. Q&A time. NOT a boring old lecture (never!).
Have questions about Ohhh Summer Workshops: Talking Dirty with Katrina McKay?
Contact Ohhh Canada