FOR IMMEDIATE RELEASE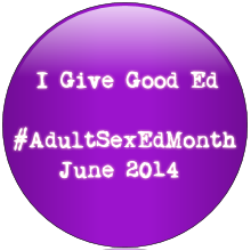 JUNE IS #ADULTSEXEDMONTH
If you hated summer school as a kid, you'll love it as an adult.
That's because June is #AdultSexEdMonth.
#AdultSexEdMonth is an online viral learning experience that's led by sex bloggers. Topics that will be shared throughout social media range from anal sex tips to everything you wanted to know about the vagina.
"I started #AdultSexEdMonth last year because credible information about the how's and why's of sex were so hard to find," says Ms. Quote, originator of #AdultSexEdMonth and blogger of A Good Woman's Dirty Mind (http://agoodwomansdirtymind.com). "While researching stories for my blog, I found that many clinical professionals couldn't adequately answer or explain things about things like female ejaculation and the G-spot. And heaven forbid finding answers on online discussion boards. Some of them are as laughable as they are frightening. They show how so many people know so little about sex. However, I found that many sex bloggers offer the best explanations."
#AdultSexEdMonth's curriculum can be self-tailored to address the curiosities for everyone from virgins to senior citizens, for people who enjoy gourmet vanilla sex to kinky sex dripped in chocolate. Topics are geared for those who are gay, straight or even a bit twisted.
"The whole spectrum of sexuality is so broad and deep," Ms. Quote says. "It's very likely that people will learn about things they've never knew they wanted to know.
"While being sex smart goes a long way in being a skilled and better lover, many of the articles that will be shared also deal with things like building better relationships, safe sex, consent, sex-positivity. For something that the human mind and body were designed to enjoy, our culture and society is dreadfully lacking in these areas."
"I don't like to think of #AdultSexEdMonth as my project; it's everybody's project. The more sex bloggers we get involved, the more people we can reach with the information we provide. It really takes no more effort than adding the #AdultSexEdMonth hashtag to your adult sex education stories."
"Since we have a website this year that will serve as #AdultSexEdMonth central with a story index and featured articles, I have opened up the website to highlight corporate and individual sponsors. It's ideal branding placement to get in front of your target markets. It also helps me with the time and expense of running this campaign. "
In addition to articles, videos and podcasts about sex, there are several online discussions that are planned during #AdultSexEdMonth. While #SexTalkTuesday, hosted by @SsshForWomen (https://twitter.com/ssshforwomen), already takes place every Tuesday on Twitter from 4-5 p.m. EDT., it's making time for #AdultSexEdMonth. @naijadesires (https://twitter.com/naijadesires), a creative director of a Nigerian online sex toy retailer, has quite a few sex experts lined up to lead discussions on Twitter and Google Hangout. She has quite a few Nigerian sex experts lined up to talk about things like sexual health, sex toys and relationships. Schedules will be listed on the #AdultSexEdMonth Events page (http://www.adultsexedmonth.com/adult-sex-ed-month-adultsexedmonth-events/).
"I'll (@GoodDirtyWoman – https://twitter.com/GoodDirtyWoman) be moderating a discussion on everything you wanted to know about sex on #SexTalkTuesday on June 10," Ms. Quote says.