I normally reserve this space for sex bloggers, but with Michele Schalin and Little Shop of O's you get not only fantastic sex information and content, but also an excellent sex shopping experience. Talk about rockin' the best of both my worlds!
How did you get into sex blogging?
Well, I had this amazing sexual awakening about two years ago after reading some BDSM erotic novels, that opened a whole other world to me that I had never given myself permission to explore before. My limited outlook was the result of my upbringing and cultural programming.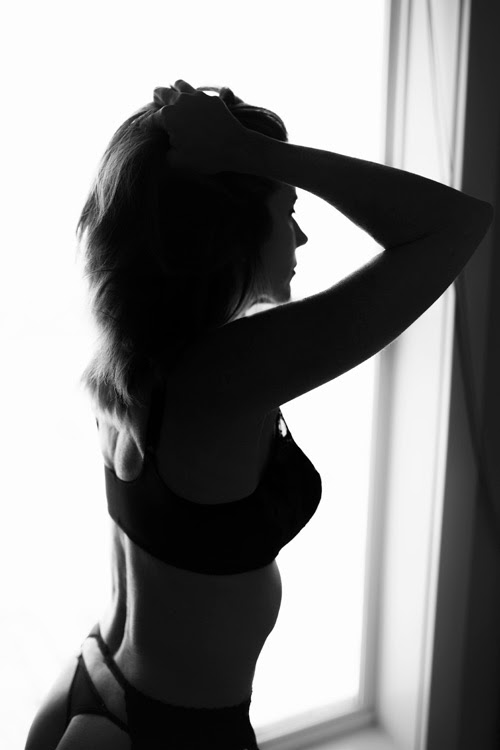 Photo by: Heather Johnston Photography
This awakening had a tremendous impact on myself and my relationship with my husband and fueled a passion for me to share a sex positive message with other women. I know a lot of women and couples have a less than satisfying sex life because of their inhibitions and hangups from shaming messages they have received. I want to share my experience in hopes to help couples have more fulfilling sex lives. I started to seek out other like-minded people online, and I ended up bumping into this amazing world of sex bloggers that I never knew anything about. I am learning a lot, meeting wonderful, interesting people and having a blast.

What's it like working in the sex industry in Texas?
Interesting…haha – we live in Austin, which is the very blue spot in a red state. Austin is very liberal-minded and the rest of the state is pretty conservative, but the demographic is changing with the influx of people moving here. So Austin is kind of a place all it's own. There has been a terrific amount of controversy in Texas over the last couple of years with the conservatives trying to legislate control over women's reproductive rights, so it's kind of a hotbed that other states are watching. It sure is bringing both the sex-positive and anti-sex people to Austin since we are the capitol. A lot is going on and a lot is still up in the air.
But there is a large % of sex-positive folks in Austin and I think people everywhere are just hungry for this information and want to talk about it. I believe we have been in another sexual revolution for women and the LGBT community for the past 10 years and it has been really ramping up over the last three years. Wherever we go we get a very positive reception. 🙂
Where does the inspiration for your Sex Tips come from?
Things I think a lot of folks want to know about but are afraid to ask. Some are questions we actually get from people, but a lot of it comes from inferences people make about what is lacking, or at issue in their lives.

What kind of feedback have you been getting from customers about the many different areas of your site?
They generally love our upbeat, positive, frank and fun approach in our discussion about sex and how it is such a huge part of our humanity and sexual satisfaction SHOULD be a big priority in our lives. They like the variety of blog posts, videos and book excerpts. Our goal is to continue to provide a lot more than products for our visitors. We are building a community where people can find sex positive information, both informative and entertaining. We feel that there is so much more to sex than the physical act itself. We strive to provide a broad view of preferences, and not only about technique and toys, but also attitude, being safe and healthy, openness, communication, and acceptance. We want people to find a greater happiness with sex as an important facet of their most valuable, intimate relationships. Just as we have.
Is it difficult to get people to open up for the O's Exposed?
Not too tough. We tend to shoot in public venues where there is a lot of activity and a good vibe. It doesn't hurt that there are typically drinking establishments in close proximity to where we are filming either. Some folks need just a bit of social lubricant to open up. Each time we shoot we get a lot enthusiasm from the crowd. Loads of fun.



What is the best response you've captured on O's Exposed?
One couple was on their first date answering questions of turn ons, sex toys, sexual fantasies. Their reactions to each other were very funny. Answers from couples, friends and a group of lesbian lovers, about role playing, dirty talk, craziest places they have had sex, their favorite sex toys, turn-ons and showing us what their "moves" are.
What kinds of toys are most popular currently?
Toys that couples can use together, remote vibrators, bondage products; crops, blind folds, restraints, floggers, etc.., glass dildos, anal play items, role playing outfits, and of course favorites like the Magic Wand, which is a great toy to throw into the mix.
Would you be able to do this work if you weren't doing it together?
I absolutely LOVE doing this with my husband. However, if were not together, yes, I would continue to do this work, it has become a passion of mine for sure. So many women and men suffer in this area of their lives, I want to share a sex positive message for the rest of my life. It is a beautiful thing to see a person blossom once they truly let go and have fun.
What can we look forward to from Little Shop of O's in the future?
We are really excited about opening our brick and mortar shop this year in Austin. We will be holding monthly events at the shop; sexy game nights, erotic book readings, workshops, seminars, meet ups, etc…, We will be building a community offline as well as online. We are very excited to have the opportunity to hold more local events and interact with couples. And or course… more O's Exposed videos in the near future. 🙂