Marie Rebelle
is our first Hook-up from outside North America. Her twitter kept popping up in my feed, a frequent recommendation from others. I was instantly hooked by her autobiographical and explicit words and images. She paints, she draws, she writes, she discusses her D/s relationship with her Husband. She's a strong-willed woman, a wife, a mother and a daughter.
You'll see, she's captivating.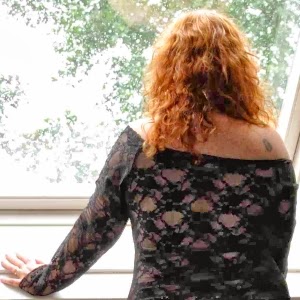 How did you get into blogging?
My first blog was a vanilla one and I blogged mainly about family stuff, but that did not give me the satisfaction I was looking for. I barely ever had comments on it and what I really wanted to do was to share my erotic stories. I have always loved to write, but most of my stories were not for the general public as I prefer to write erotica. A couple of stories were on my computer and I wanted to share, so I decided to start an erotic blog. I did that back in January 2010, but stopped after I had posted two stories. I first had to figure out how to draw attention to my blog. Once I had that worked out, I started blogging on a frequent basis in November 2010. Gradually my blog grew from sharing mainly erotic fiction to also sharing my real life sex stories, as well as photos.
If you could, would you leave your day-time profession to blog full-time?
I would absolutely LOVE to. Not only to blog full-time, but to be writing full-time. I work 5 days a week and would actually already be happy if I could get that down to 4 days a week and then spend one day working on my blog and my writing. But yes, my ultimate goal is to stop working entirely and blog/write full-time.
In North America, we are constantly told of the liberal attitudes toward sex in Europe. Is that reputation deserved?
This question made me chuckle. I have to answer it in two parts.
I know that the Dutch, especially, are seen as very liberal towards sex. I guess it is true, but from what I have witnessed and experienced in the past two years since I have been part of the 'sex (blogging) community' is that North Americans and British people are a lot more liberal than the Dutch. They seem to go out to kinky parties a lot more or hook up with other kinksters on a more frequent basis than happens here in the Netherlands. I find it a lot easier to get in touch with American or British people than with Dutch people. That said, once I do get in contact with Dutch people and get to know them a bit, they are fun to interact with and they are liberal indeed. I think this means that people from the USA or the UK are more open when they are approached by new strangers than the Dutch are.
That said, I know that in each country you have a sliding scale where you have your incredibly conservative people on the one end and your incredibly liberal people on the other, with different gradations in between. So yes, over here, and I guess in the rest of Europe too, you have liberal people, but you also have conservative groups.
Last but not least, I love this liberal country, because I grew up in a very conservative country, where I always felt out of place with my 'rebellious' nature.
Would you ever consider making your D/s relationship with your husband, Master T, a publicly known relationship?
I would love to be able to make it publicly known, but…
… you knew there was going to be a 'but', right?
Referring back to my answer about people being liberal or conservative, the main reason why I would not just go out and make our D/s relationship publicly known, is because of family. Some of my family members will not be able to accept that I have a D/s relationship with Master T. When I started writing about it, we discussed the possibility of being 'discovered' by any of our family members, especially kids and parents. We have decided that we will honestly answer any questions about our relationship, but we will not just drop the information on them if they have not asked for it.
On the other hand, my best friend and my closest colleagues know about my D/s relationship with my Husband.
Who are your sexual inspirations?
My very first and most important sexual inspiration is my Husband. Apart from Him, my inspiration comes from a variety of different people. I think it also depends on my mood who inspires me on the day. Sometimes it's a girl friend, who is part of a couple we frequently date with. Other times it's people I follow online, whether on Twitter or reading on their blogs. I even sometimes get my sexual inspiration from having an 'innocent' conversation with someone or just being in a traffic jam and watching other people around me. Yep, I know, I have a dirty mind.
Your 100 Facts About You meme was completed in 2011. Any updates?
That was just a trick to get me to read my own list again, right?
But indeed, there are updates:
I had a burnout and did not work for about 6 months.
I do not go to the psychologist anymore.
I have developed a fructose intolerance due to the stress that lead up to the burnout.
My second grandchild will be born in 2014.
I have completed a four year management study.
After the burnout my memory has never been as good as before.
At work I am not second in command anymore and I love it!
I almost never drink coffee anymore.
I will be getting a huge tattoo in the beginning of 2014 that will connect my smallest and middle-sized tattoos.
I have sucked and swallowed two men within ten minutes from each other.
I almost never wear panties anymore.
I almost never wear pants anymore, only skirts.
I do not wear a quarter cup bra every day anymore.
In the last year I have been with a woman regularly during play dates.
I have five piercings, all intimate.
Our archive of photos of me has grown to about 7500.
Thanks for making me look at the list. An update was needed indeed!
What three words would you pick to characterize your erotica writing?Since I could not come up with any words, I asked my Husband to help me with this. He is my biggest fan, after all. His words to describe my erotica writing:
explicit
realistic
stylish
You participate in some fantastic sex-related memes. Do you have a favourite?
I definitely should say that my favorite is Wicked Wednesday, but I cannot boast about my own meme, right!
There are three memes I really enjoy participating in and those are:
Sinful Sunday brings out the exhibitionist in me, but also stimulates my creativity. I love sharing my photos, but I also love the competitions with a specific theme. It channels my creative juices just the right way and I love that Molly has started working with a monthly theme. The love and respect from the people in the Sinful Sunday community definitely help to make this one of my three favorite memes.
Kink of the Week is a brilliant meme that has a different subject for every week. All subjects are kink related and I have learned a lot since Jade has started this.
Wicked Wednesday is my own meme, which works with an optional prompt and allows people to post poetry, photos or stories. Stories can be erotic fiction or about real life things. I have experienced so much love since this meme started and where it does take a lot of time to read all entries, I make a point of doing so every week and leaving comments for all entries. I also tweet the link to all entries and just try to build this meme to be as successful as Sinful Sunday.
What new adventures can we look forward to from you in the future?
At this moment the only adventure I have planned is submitting stories to different publishers to consider for anthologies. I want to get my name out there and be noticed and accepted as an author. Once I have succeeded in that, I might have the confidence to get a book published. I love writing and my dream is to make a huge success of that!