Jessica Drake's Guide to Wicked Sex: Woman to Woman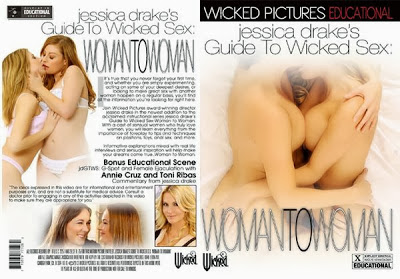 Is it wrong to watch sex education guides and appreciate the talk way more than the sex?
I know that is a silly concept–of course we are supposed to be into the talk! The sex parts can be a great visual representation of way you're learning, but hearing thoughts and discussion are key. And Jessica Drake's Guide to Wicked Sex: Woman to Woman is a video that fully embodies listening.
I often find that the host is the main draw of sex ed videos. Think Midori, think Tristan Taormino. And this is not to say that that Jessica Drake isn't great here, but she isn't the focus. Instead, the cast of women and their stories are the real stars.
And rightfully so! Because this collection deals with sexuality and not just sex instruction, it is imperative that discussions of exploration and experimentation be front and centre. Sure, there is room, later on for a more hardcore approach to woman-to-woman sex, but this video is, presumably aimed at women wo are discovering thair sexual attraction to other women.
From that theme comes another important consideration: identity. The cast share stories and thoughts on their own identity in relation to their desires to fuck women.
Given what we know about porn consumer habits, we have to wonder if this film is produced withe the male gaze in mind. One positive point is that there is no stereotypical "lesbian" representation–but at the same time the cast is not particularly diverse in terms of body shape, size or colour. But again, the cast aren't a group of silicone-enhanced, tanned, bleach-blonde barbies. Then again, women who look like that should be included as well because any "type" of women can desire other women.
Eventually, there are sex scenes. They happen. While they are titillating and instructive, I definitely gravitate more to the talk. However, there are definitely techniques to be learned!
This is the first Jessica Drake video I have watched, but if others include this level of smart discussion, I will definitely be checking out more.