Sliquid Natural's Swirl: Blue Raspberry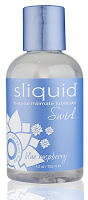 I think I have a new favourite lube!
Now, we did just try a sampler, but Sliquid Natural's Swirl, Blue Raspberry flavour was an absolute delight to try.
Normally I do not go for any kinds of lubes, massage oils or other intimate products that have a scent to them. I like my sex to smell and taste like sex! But we were in a bit of a pinch, needed some lube and this sampler happened to be on the bedside table. It was grabbed, opened and used, and if things can be put bluntly, we had a fucking good time.
It was only later that we noticed the lube was scented…and it wasn't at all unpleasant. Actually, it smells really good. Not chemically, not overpowering, just a pleasant addition to our own sex aroma.
The lube itself I wasn't worried about. Sliquid's products are always top notch. All are water based lubricants—glycerin and paraben free—with these flavoured versions containing flavouring and a hint of aspartame. This means they are very safe for those with vulvas as they won't cause yeast infections or uti's.
Other flavours in the series include: Cherry Vanilla, Green Apple Tart, Blue Raspberry, Pina Colada, and the new Pink Lemonade & Strawberry Pomegranate. I'm looking forward to trying others!
Remember, this is a water-based lube so reapply frequently during your scene. But I don't think you'll mind!