Behind The Whip: Dominatrix Portraits and Words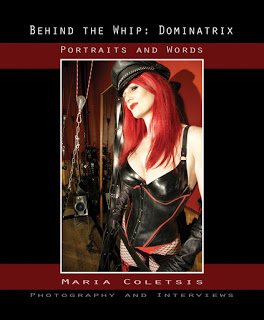 This book is gorgeous. I mean, I love photography books and I pay careful attention to fine details like paper, binding, printing (that being a former profession of mine)…and
Behind the Whip: Dominatrix Portraits and Words
is a beautiful, realized vision of what is possible when desire meets ability.
I was first in contact with photography Maria Coletsis because the short documentary that came out of the making of Behind the Whip screened at Toronto's International Fetish Film Festival. After interviewing her, I was delighted that she sent me a copy of the book…and devoured it immediately.
Again, these photos are excellent. Coletsis travelled the world to capture images of and speak with women with experience, candour and wit. She captures both their personalities and their alter egos to so well, both in the photos and the interviews. All of the women interviewed offer their thoughts and feelings of being in pleasure work in an engaging and thoughtful way.
I particularly enjoyed both the photos of and the words of Mistress Scarlet of Glasgow. She explains her personal roots in dominatrix work, gives examples of what she enjoys in the work and provides a hint to her business plan. Smart, open, practical, but from the photographs, you can tell that she does enjoy her profession and is very comfortable in her surroundings.
And that is just one story in Behind the Whip. Maria Coletsis brings together dominatrixes from around the world, including Mistress Silvia from Berlin, Mistress Erzuile from Montreal, Mistress Ginger from New York, Mistress Benio from Tokyo and many others. A fascinating look into a world usually reserved for only those who are involved.