I'm just shy of my 40th birthday and I suppose that means I've been buying sex toys for around 20 years. When I first started making pervy purchases, sex toys were of a very different quality. That quality was crappy. I mean, sometimes you'd open a package and fear for what you had purchased.
These days, things are much better. Quality toy makers have stepped up and now we have a fantastic selection of healthy, sexy toys to play with. However, that does not mean that the market is still not rife with inferior and potential dangerous products.
Which is why I was very happy to find this
fantastic guide to sex toy materials
this week on Kinkly. To continue the conversation, I chatted with the article's author
Caitlin M
of
Sexational
to get some more information on the the confusing and sometimes sneaky world of sex toy manufacture.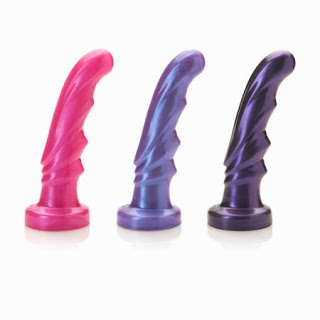 How did you personally get interested in learning about what sex toys are made of?
I personally started learning and gaining interest when I started working at an adult store. I didn't have any previous experience or knowledge pertaining to adult products before I got a reply to a resumé I posted on craigslist, and once I started learning more at work through our fairly basic product knowledge introduction program, I started researching more outside of work. It didn't take long to learn that some sex toys are made out if noxious, dangerous materials—I'm chemically sensitive, and learned first hand from handing phthalate-ridden clearance toys which gave me rashes on my hands and headaches and nausea from the smell.
Do you envision a time when sex toy manufacturers will be required to list the materials in their products?
I don't see it being anytime soon. People are still having trouble talking about reproductive rights, with female representatives being silenced for saying the word "vagina" while discussing new reproductive health laws: male lawmakers responded saying that the word was incredibly upsetting to them. Sex toys are still illegal in Georgia and Arkansas, and many people have difficulty communicating with their intimate partners about sex and sex toys. In a society like that, the necessary research and lawmaking to get manufacturers to list ingredients on their products is a long way down the line. Thankfully, we have educators who are very serious about the risks of toxic toys and non-profits like Dildology trying to look into the materials sex toys are made out of for the benefit of everyone.
What are some of the tell-tale indicators—when just looking at packaging—of toys that should be avoided?
If you're looking at the packaging, the worst culprits are anything porous—Jelly, Jell-ee, Sil-a-gel, TPR, TPE, Cyberskin, FantaFlesh, UR3, etc. It comes in a variety of mixes under a variety of names—and frequently they'll claim the material as silicone, a non-porous material, because of its new popularity. They can say whatever they'd like on the packaging because there's no one regulating them as long as they don't claim it will cure a medical issue.
When you're looking at a product, keep in mind that medical grade silicone is always opaque, so if it claims to be silicone and is clear… they're lying. If there is visible, oily residue of any kind, don't buy it—those are the phthalates, a harmful substance that's regulated in children's toys, which softens plastic by degrading it. Ask a sales rep if you can see something out of its packaging, and smell it; if it has a plasticky or fragranced smell, keep away. Unsafe toys are frequently scented to cover up their plasticky odor.
I don't trust any of the big companies like Pipedreams or Doc Johnson; though they have the most selection, they're frequently low quality in construction and material. You can check out the manufacturers I trust over at my blog if you want some suggestions for honest, body safe manufacturers.
How are sex toy retailers aiding or inhibiting the movement to healthier, happier toys?
This really depends what retailer you're talking about—some companies put education and body safety at their highest priority, and others have no idea what's going on with materials in the industry or could care less. It really is down to the individual store, but some of the first to talk about toxic toys were Smitten Kitten, a small retailer. Their founder Jennifer has been a serious catalyst in the movement to help people know about the dangers of toxic toys, and we'd be behind where we are now if it weren't for her. Watch this video hear why she started caring about toxic toys.
What is the ONE toy that you have found that tops your list of pleasure and health?
Oh, that's very difficult. I can't narrow it down to one product, but one company that tops my list is Tantus. Not only are all their products made of the highest grade of silicone available, but they've even bonded the pigments to the silicone molecules—many people are allergic to pigments and don't realize it. Not only that, but their founder Metis Black spends a lot of time researching and educating on the issues of toxic toys, not to mention that they have fantastic, well designed, and beautiful products that are all made on-site in Nevada. I recommend them every chance I get.