I'm not even going to try…the first thing that appealed to me when I saw the Twitter handle
Redhead Bedhead
was the Redhead part. However, as is usually the case, I quickly learned there is so much more than just a splash of red…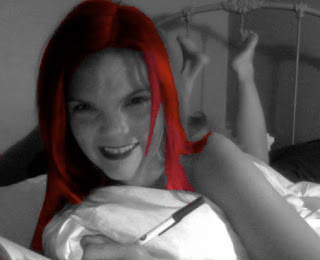 What started you on "your mission?"
I spent a long time relating to sex as something that belonged to other people—sexier people?—and accepting that what I was experiencing was as good as it gets. Two years ago I decided to stop settling in my own life and then, a year later, I decided to start talking about it online. I figured I couldn't have been the only person who felt the way I once had and maybe talking about it could help other folks see that they (indeed, we all) deserve a happy, healthy, hot sex life.
What have you learned in this first year of blogging?
How much time do you have? I have learned so much in the last year! I think the biggest thing I've learned though is just how little I knew when I started! I flew blind into this project. I often joke that if I had known more it might have scared me out of trying—my ignorance made me brave enough to try.
What are some of your favourite sex subjects to write on?
That has changed dramatically! When I started I thought I wanted to write about "serious" things. Abortion rights, feminism, circumcision etc but as time has passed I've seen my interest get pulled to sex positive retail and my own neuroses, which has led me to start studying topics like introversion.
These sometimes feel like completely different directions to be going in but what I recently realized is that I'm, in general, working to combat the idea that we, as people, are "broken" With bad adult retail people get crappy products, misinformation and negative experiences—they continue having mediocre sex and think it's because they are "broken" Likewise folks with introverted tendencies who are told that they way to meet dates is to cruise bars—that is against their nature so they panic, meet no one and think it's because they are "broken" Eff that noise. None of us are broken
What are some that you'd like to see more people writing about?
ME!!
Seriously though, sexuality and depression is what I've been thinking about this week, but maybe that's just what I want to write about…
Do you think redheads will always hold a special "exotic" place in our sexual culture?
As long as Christina Hendricks and I have anything to say about it, hell yes!
From Gulliver's Travels to "Jolene" (a song that folks reference to me constantly forcing me to go "that's not at all how my name is pronounced!") the vernacular is riddled with references to sexually aggressive red heads, I don't think the image is going anywhere.
PS: I cut this article out of The Onion when I lived in NYC years ago and it still hangs on my fridge—
I'm Certain That Sex With A Redhead Will Be More Fulfilling Than Other Sex
Do you have any great roadtrip stories from The Superhero Sex Shop Tour?
Leaving Canada I was extensively questioned as to why I had been in the country and "I'm a sex educator doing a tour of North America's best sex shops" was apparently a suspicious-sounding answer. Cut to me in a back room having my bags searched by a Canadian border patrol (I think?) agent. I got to explain the We-Vibe 3, The Vixen Gee Whiz and the Feminist Porn Awards. By the time I left the officer had taken down the names of the two shops I had been in Toronto to visit (Come As You Are and Good For Her)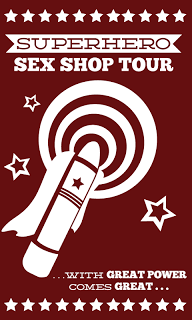 Can you get a sense of a community based solely on the types of sex shops it has?
Absolutely. I think if you visited
She Bop
as your first stop in Portland you'd get a taste of what this city is like. Everything is cool and beautiful, there's some stuff that is technical and confusing that someone will happily explain to you, a bunch of products are locally sourced and there are things made out of repurposed bike tires. Frankly that could have described any shop in PDX…
In Milwaukee the Tool Shed feels a little edgy, a little tougher but also funky, into cool handmade stuff and kinky as all hell. Tool Shed made me realize that Milwaukee is a cooler place than I ever gave it credit for.
This will even change neighborhood to neighborhood. In Toronto there are two fabulous shops—Come As You Are is in a funkier, busier part of town (at least it looked that way to me) and it a big, open, brightly painted shop that feels kind of like a party could happen at any minute. Good For Her is located on a quiet street closer to a college and is cozy, quiet and feels like the sexiest bookstore ever. Both awesome, both perfect for their neighborhoods.
What is the best sex product you've come across this year?
Whoa! Tough call. There's stuff that's great because of how super-useful/effective it is (I'm in love with my Mystic Wand right now). There's stuff that's great because it's functional and beautiful (Crystal Delights anything fits here but their tails especially rock my socks off) But there's one thing that I discovered and proceeded fall hook, line and sinker for—Please Cream Lubricant. I talk about it constantly and use it just as often.
What can we look forward to in the future from The Redhead Bedhead?
Just last night I said that I need a big board to write all my ideas on so I can keep track of them. As the tour wraps up (by the way, still raising funds for that!) I'm preparing for what comes next in the quest for more sex positive retail—aiding existing businesses as they work to become sex positive. Recently "like Gordon Ramsay, just with dildos" was said about the idea… I liked that.
There's also a ton of writing on the slate. I'm working on some stuff in relation to dating and sex and introversion—a topic very close to my heart. Keep your eyes peeled!