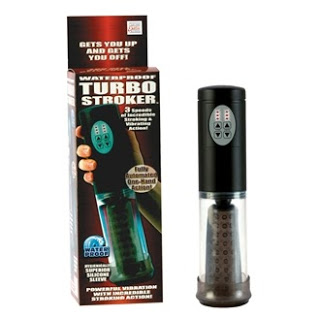 I was very excited when I received a message from the fantastic folks at Come As You Are, letting me know that they had a toy they were hoping I could take out for a test spin. Never one to pass up a fun toy adventure, I happily skipped my way down to the shop and marvelled at what they offered.
I think I may have giggled in delight when I was handed a toy with the word "turbo" in it. It felt both ridiculous and and exciting to have something called the Turbo Stroker in my hands and I couldn't wait to get it home.
What a letdown.
The Turbo Stroker (from California Exotic Novelties) has all the potential in the world, but just didn't do it for me. What we have here is basically a jack-off sleeve with the added bonus of an automatic pumper. Basically, a Fleshlight that does the work for you. The unit features both vibration and pumping, with different frequency and speeds available.
It seemed like it would be good…but…
I make the comparison to Fleshlight on purpose. The two products are pretty similar, but some main parts of the Fleshlight that are so good are not so in the Turbo Stroker.
The main thing is the sleeve. The Fleshlight is so soft and pleasant. The Turbo Stroker is rippled and made from a more basic plastic. It is somewhat soft, but really. I also didn't enjoy the ripples as part of the experience.
Perhaps most disappointing though is the defining feature of the Turbo Stroker. The stroking action, in its variable speeds, is like some kind of jackhammer jerkoff. The lowest speed is about the only one that doesn't feel beyond unnatural. I mean, sometimes we all pick up significant speed in masturbating, but this thing is ridiculous. I'm glad I poured on a bunch of lube to absorb the speed.
To add insult to injury, the box says it has fancy lights. Sigh, no such lights. Sigh.
Ultimately, in a rare instance, I actually put this toy down and didn't finish with it.
I can't recommend this toy at all.