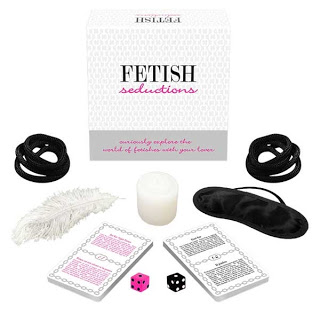 Everybody has to start somewhere, right? Especially when it comes to sex. And even moreso when it comes to fetish.
Getting into fetish play can be both exhilarating and intimidating. It can be so exciting to try something new—but that can also be a rather daunting idea.
A game like Fetish Seductions (Kheper Games) is a great starting point for newcomers to the fetish scene.
The game itself is pretty simple. It comes with a deck of cards with different scenarios to play out plus a couple dice and a selection of sexy tools including rope, a massage candle, a feather and a blindfold. Players either role the dice and determine the card and action or, and I credit the creators with acknowledging impatience, players can just move through the deck at their own pace. The point isn't winning or losing, it is closeness, connection and sexy times.
I do have to note something important here: this games is for beginner fetish players. They will find the activity cards new and interesting. Experience players, on the other hand, might find the directions to be a bit pedestrian. I'm not suggesting that anyone shouldn't try the game out, I'm just putting that out there.
While the instructions are limited, there is a note right in the beginning that players should become acquainted with safewords. An important touch.
The cards are a fun assortment of light, fun play and somewhat harder edge play involving the various tools. Some involve bondage, feet, voyeurism, exhibitionism, BDSM, gender play and much more. The variety is quite good for a beginner's game.
I will admit, I bought Fetish Seductions on a lark, thinking it would be a silly waste of time. I am no significant fetishist (well, not with what is in these cards!) but I have had a lot of fun with the game and look forward to playing some more.