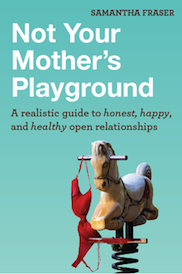 I need to declare a bias here, right off the top: I tried non-monogamy and I was terrible at it. So were those I was involved with. And it wasn't a one-time thing, I tried a few times. Didn't work out at all. Again, I take my share of the failure of those attempts. So I have since felt that non-monogamy really isn't for me. After reading Samantha Fraser's Not Your Mother's Playground, I wonder if maybe I could make it work.
For a number of years, Fraser wrote her thoughts and experiences on non-monogamy oner her blog (of the same title as the book). She researches, she talks to other people experiencing this relationship type and, most importantly, she shares all of the joys, frustrations, sex and heartache that happen in her and Steph's journey through non-monogamy.
The blog was (is) always popular—the book could be even bigger.
Fraser hits all the right notes from cover-to-cover. When she tells her own stories, you feel that she is right there, arm around you, ready to listen to your thoughts and questions. At the same time, she presents information, theory and criticism in such a readable, understandable way. She establishes a humble authority, quickly creating a relationship of trust with the reader. This is so key in educational texts relating to sex.
As someone who reads this type of book, I greatly appreciate reading the words of some who is both relatable and knowledgable. I cannot say enough about how much Samantha shares of her experiences. To have advice come from someone less experienced would be harder to accept. However, while I love that aspect, the solid, clear suggestions, advice and guidance that truly stand out. Most notable are the sections on Communication and Jealousy and Compersion. And the Glossary! Even if you aren't interested in non-monogamy, but you are interested in sex studies, pick up the book for this excellent glossary.
So, after reading Not Your Mother's Playground, would I jump back into a non-monogamous relationship? Maybe (except that I am in a happily monogamous relationship) I would. If that situation ever comes up, I do know that I will be far better equipped to give it a better effort.