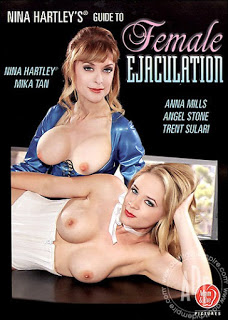 From time to time I am going to feature some older sex ed books and dvds. Just because it may be a littled dog-eared or well-played doesn't mean it needs to go to the back of the shelf! And with that I dusted off a classic by everybody's favourite nurse, the incomparable Nina Hartley and her guide to female ejaculation.
I will happily admit that I adore bodily fluids. Cum, spit, blood, sweat, piss…let it flow! So I have always been intrigued by squirting. Fortunately I've experienced it a few times, and I hope you will watch this video so you can too. Beyond actually learning the actions and potential, the true draw of all of Nina's guides is Nina herself. There are only a handful of porn performers who can command the respect and trust that Hartley does.
And it is well-deserved. Nina, while she has been entertaining us for years, has also been on the frontlines of sex education. And she provides amazing information and a tremendous demonstration of female ejaculation with her willing and very able helper Angela Stone. Nina provides all of the anatomical details and an array of suggested techniques, but there is one key element she preaches and practices: patience. The demo with Stone lasts almost 40 minutes! And Nina reminds us that taking your time, letting arousal build, letting her fluid accumulate will make her orgasm and potential squirt all the more amazing.
Another thing Nina stresses is that not every woman can ejaculate. In fact, she says she doesn't. It is so important that she includes this fact because it will reassure those who try but do not succeed. Nobody wants to fail at sexy time! And by relating to her audience her own inability just makes her more trustworthy.
If the idea of female ejaculation intrigues you, Nina Hartley's Guide to Female Ejaculation is a must watch. Or if you just want to learn something new from one of the best, check it out.