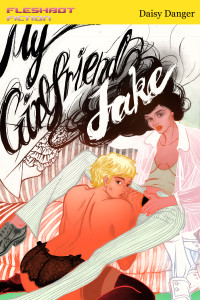 Talk about exploratory fiction! Writing erotica that explores gender variation is a tricky thing. More often than not, it usually fails. Capturing the intricate, confusing and sexual thoughts and actions of someone exploring gender is a tough thing.
The story and all of the action starts with a little clothes swap. Jake tries out his girlfriend's panties and that sets her crotch and mind ablaze. From there, the two escalate their explorations during a week-long experiment of Jake as "the girlfriend," trying and enjoying more and more.
The sex in My Girlfriend Jake is hot. Very, very hot. But it isn't even the strongest feature of the story. All of her feelings—both sexual sensations and personal reflection—and the way Danger expresses them, put this story in a class of its own.
Stories that are of a complex sexual nature (be it this subject or others) need this narrative to bring in readers who aren't as familiar with these thoughts and activities. At the same time, readers who are already turned on by gender play can get off moreso with this added element.
Without a doubt,
My Girlfriend Jake
is a fantastic and hot story, another hit from
Fleshbot Fiction
. Kinda makes me want to go shopping…