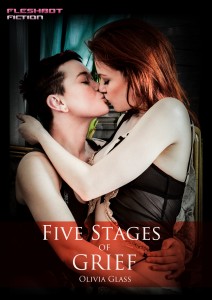 Five Stages of Grief by Olivia Glass
Have you ever been in a tangled, confusing relationship with a dominating person? Someone who just takes you away to another place—consequences be damned?
Then the relationship ends and you are just lost. Until the next time that person comes back around and you immediately heel.
Welcome to Five Stages of Grief.
Olivia Glass spins a mesmerizing story of lust, love, betrayal and so much more. As with the other works offered up by Fleshbot Fiction, Five Stages of Grief features hot erotica wrapped up inside a strong, compelling story.
What most draws me into this story is the psychology between the three characters. Adrian is the free-living, passively-domineering bride to be who recruits two of her exes, Lucy and Caroline, to help with her wedding. Though the relationships are in the past, hurt feelings linger. And those feelings are what drive the action to a surprising twist.
Rich in character development and with a unique story, Five Stages of Grief will make you consider your own past relations while simultaneously being turned on! You can decide whether that is a good or bad thing.