Introducing Maxine X
I feel funny introducing someone who is already so well-known! Porn superstar, retail proprietress of sexual goodies…she's the hardest working lady around. And now she's blogging too!
How did you get into blogging?
I just officially start blogging for my own site to promote my Adult Store. I have had my store for two and half years and less then a month ago we created the site for blogging and promoting.
I have been posting on facebook, twitter, youtube and all my other social networking sites for years. I have been in the adult industry for about 10 years and have been self promoting myself and my work the whole time. Blogging comes naturally to me. I love to write, I have so much in my head. I talk a lot so I always have something to say. I also started writing a book about being a Fetish Model and one that is also a bit biographical. But I have a long way to go because I've been so busy lately.
Do readers ever find your blog first and then discover "Hey! This is Maxine X!"
I don't know if that has ever happened, but I think most of the time they either follow me because they like my work already or they follow me because they like my profile picture and then find out what I do. If they don't know who I am, they will discovery it pretty fast. I'm an open book.
Your blog is still new. What are you most enjoying blogging about?
I love creative writing. I love to type. I'm a fast typer. I love to talk and can talk for hours to people and friends in person. I also love to express my thoughts, tell people about my adventures and I love to educate others. I always have something to write about.
How's life in the sex retail world?
Life in the Adult Store Retail world is just fine I guess. I am a new business, so I've only been open for 2 1/2 years so far. I am still building, growing & developing. I'm still working full time and working hard. I still contently promote my store and try to get the word out there that I have one.
People are still just learning that it is even here. But as we all know it takes up to 5 years for a business to be establish. It's all about surviving those first 5 years. I don't rely on my store for survival at the moment, but I am only getting busier and getting better!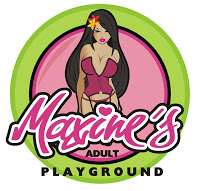 My store is a passion of mine. I love it. I've always wanted my own store and I've always loved adult stores, adult toys, lingerie and heels etc. My husband help create it for me because he is the most amazing supportive husband.
So until my business is up and running on its own, I work my ass off in the store, building the store, being an adult performer and anything else I can do. My husband works hard as a producer, editor & selling our adult content online and to Pay Per View channels and hotels for Canadian Content.
I am hoping my blog will help my adult store, but even more so, I hope that it surpasses my adult store and becomes a successful blogging site. I also plan to write books & teach sex workshops one day.
Do you encounter customers you'd consider blogging about?
Of course! All the time. But I have so much more to write about first. I'm just trying to catch up on my writing on my "Sex" 101 stuff, questions people always ask me & blogging about my adventures in the adult industry.
How much film work are you doing these days?
I am back to shooting again! I moved to Windsor from Toronto about 4 years ago and I thought I was just going to retire from Porn. I was honestly thinking I was too old and I was trying to figure out what I wanted to do. After whole winter of not doing anything except a little webcamming and taking little courses for fun such as, "How to read Tarot Cards." It was in that class where I asked, "What was I going to do? Was I going to settle down and have a baby or something?" And then they read my cards and it said I would be in the spotlight. (Entertainer) And soon after that incident I had a Psychic Reading from someone else and she told me that "You're really good at your job. What do you do?" I laughed a little and told her.
American Damsels
And coming soon;
DVD (worked with 4x AVN Award Winner for Male Performer of the year) Manuel Ferrara (anal)
And I had my first speaking part (non sex) roll in a Parody-Porn for Parks & Rec. Called, "Porks and Recreations"
I am also going back to California and Florida in June to do some more shoots.
Will we be reading much about those adventures?
I will definitely be writing all about my adventures very soon… I'm just trying to catch up. I have to juggle finding the time to write with working full time at my store, working on building and promoting my store, cleaning my house and doing laundry on my day off.
When writing about sex, which of your two perspectives shines through more in your blog: your film work or your retail work?
I like to do both. I blog about sex to educate and put in my perspective of working in the adult industry, my experiences with also good product reviews.
What can we look forward to in the future from you?
I am planing on shooting more. For my own adult website and for other companies. I want to work hard and get some AVN Nominations under my belt. I plan to get really into blogging and take it world wide. I want to write books and do sex workshops.