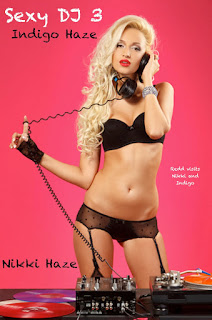 The incomparable Nikki Haze has her Sex DJ series stories up for NO COST on Amazon for the next couple days (check specific dates for specific stories), so I decided to jump right in with Sexy DJ3: Indigo Haze to see if it has some block rockin' beat to it.
Oh my does it ever!
The series follows a group of female DJs as the travel the party world entertaining the masses with hypnotic dance hooks and sex show turntable stylings. These ladies don't just bring the party, the are the whole fucking party!
Nikki Haze (the character) is the leader and disciplinarian of the group and this particular story focusses on Indigo Haze, the newest member of the troupe. She's headlining at a Vegas hotspot, Peace Burlesque where her giddy fans will get ears and eyes full of of her beautiful body and raunchy routine.
Nikki's writing is always crisp and cool. I jumped in mid series but I already have a strong sense of the relationships between her characters and their respective personalities.
And the sex? Hot and steamy and fantastically crafted! I do hasten Nikki to give a good proof read before publishing, because I don't want her work to be dismissed.
I highly recommend you check out the Sexy DJ series and Nikki Haze's many other works!