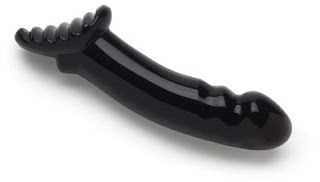 This bad boy from Happy Valley's Fuze line is a beefy addition to anyone's toy chest. And by beefy I mean big, thicky and juicy.
The first thing to know is that Wilde, if you're planning to use it for assplay is not a beginner's dong—no matter how wild you are. You're going to need to ease into using this anal adventure. Even for those partaking in vaginal vavavoom, the close to 9 inches of shaft could cause discomfort.
Once you're ready to get crazy with Wilde, you're going to find it a highly pleasurable toy for both pitcher and catcher.
In its most basic use, this disco stick is a very comfortable toy to manually fuck someone with. Flared bases, a complete necessity, sometimes make holding a dildo and getting into vigourous fucking action a bit challenging. Fortunately Wilde's base affords a good, easy grip.
However, that is not Wilde's bread and butter. Where this toy excels is when it is used in a harness. The textured bottom gives off fantastic sensations for the wearer. Ensure you include some lube in the mix and that happy spot will make her happy spot pretty damn happy with every thrust.
And for the receiver of those thrusts? Wilde is 1 3/4 inches wude and you will feel every inch if those 9 long ones. And because this is a Happy Valley product, the silicone is highest grade and feels great.
The website description if this fantastic phallus quotes its namesake, Oscar, "To love yourself is the start of a lifelong romance."
Let me tell you you are going to want to love yourself and others a whole lot with Wilde!