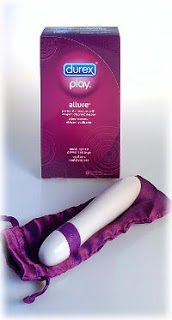 This vibrator comes with a silky purple bag! It sure does! And it feels good! It sure does!
Okay, this toy isn't going to set the world on fire as a great sexual innovation. Its a vibrator, plain and simple.
Now, that being said, it is a nice vibrator. It has a good heft to it, feels good in the hand and is relatively quiet for a buzzy good time. The multiple speed settings and nice smooth transitions if you ramp up or down are a welcome change from the click-click-click of most vibes. I'm not partial to the hard, plasticy toys like this one, but it is a bit silky feeling, so not as band as usual.
The best part of this toy is its availability. If you're too nervous to go to a sex store, you'll be able to pick one of these buzztastics in your local drug store or even department stores. The Durex Play Allure will make a great beginner toy.
This is also the type of toy that is great for experimenting. I'm partial to having it rubbed up against my perineum while I get a blowjob. These are the types of things you can think of and try out.
Really, I can't say anything bad or anything great about this toy. It'll get you off or it'll give you some nifty sensations.