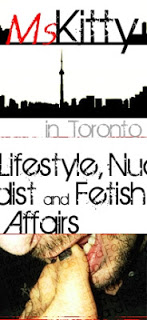 MsKitty once scared the crap out of me with a dildo. She was part of
an interview I was doing for Sex City
and the group of them gifted me with a specially-made, one-of-a-kind dildo that was in the shape of a bumpy cucumber. When a sexy lady gives you a gift like that, you know you're going to be friends.
You've been involved in various sex communities for some time…when did you start blogging about it?
Yes, I started in one of the communities about 15 years ago in the "lifestyle" community but active in the last 8 years. As for blogging, I just started over a year ago – Feb 13 2012. I just had my celebration two weeks ago on my Wednesday event at Oasis Aqualounge (of course) with giveaways such as a three night stay at Hedo II, two tickets to Toronto Raptor basketball game, Dirty Bingo (Tereasa) prize pack, and a couple of videos from Mistress Nymphetamean.
How did you get involved with Oasis Aqualounge?
My involvement with Oasis Aqualounge started off as a patron at first. I fell in love with the place, location (close to home), and the staff. As time flew by, and I was bringing all sorts of friends in, the staff asked me to host Hot Springs. I knew that if I wanted to be serious about hosting this night, the night will survive by me writing a blog and being more involved with the club. I started by carving about 10 hours a week for Oasis Aqualounge and now I am approximately 20 hours a week with social media, different online platforms, media outlets, help Holly with the marketing/creating fun events, and helping update their website.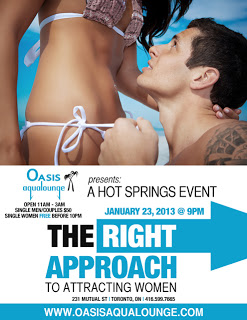 Tell us about Hot Springs.
Hot Springs is the only night that allows single males to intermingle with single ladies and couples. Single ladies are free, men and couples are $50 to come into the club all day with in/out access. Hot Springs has a lot of different theme nights, workshops (special guests and a monthly one on How to Approach to Attracting Women), Dirty Bingo, and whatever is happening in the calendar year.
Since Oasis Aqualounge is a club run by women, made for women, we still need to make the female feel good and safe in an intimate environment. How do we do that?? We have a female "cock-blocker" aka security from 7pm onwards on the third floor play area. All males must be chaperoned with another female(s) or couple. Single men in the lifestyle scene (in general) gets a bad rap and not all are bad. Some are really sweet but some can be shy. I believe there are certain single men that need to get re-educated—Hot Springs is not a brothel and not a guarantee "lay."
Do you ever worry about what you publish on your blog—even someone who is as open as yourself? Do people in the community follow your blog?
Ha ha!! Great question!! Of course I do! As much as I am transparent, I still have other things that I keep to myself and still maintain composure. There are things that I don't write about such as unnecessary gossip and real people's name. Discretion is important to the community since many have great professions/career. I love giving people nicknames and those that really know me, know a few of the others that I have written about. People in the community do follow my blog!! I have over 1000+ followers and I love how some of them, especially couples, talk about my blog between themselves. I am well received in the community and they are happy that I can represent the community in a positive note.
In relation to your many activities related to sex and sexuality, which are your favourites to write about?My favorite things to write about are my sexy escapades on the weekend or traveling abroad!!
Much of your work involves being in "the lifestyle." Many people still have lingering thoughts of what swing culture is. What, to you, is swing culture in 2013?
WOW! Interesting question Jon! Swing culture is for those that want to spice up their life. I know for me, I am monogamous by heart but I am not a "one cock woman." I enjoy the variety and different people that I allow in my life. Sometimes, I have people that I have just sexual relations with but I do have those that become friends and on the odd occasion we play. Despite everything sexual, I have met some wonderful people who happen to be more friends than fuck buddies. Swinging is not just based on sex, it's friends that I can be open to talking about sex, life, and long-lasting friendship.
Now, away from sex, what is MsKitty into?
MsKitty enjoys cooking, baking, reading, writing, riding my bike (in the summer), dragon boating(watch me on the women's team), traveling, dinner parties, wine, and learning new things/taking courses.
Being a nudist, to you prefer to write naked or is writing a clothes on thing for you?
Well since it is winter I do write in my over-sized beer shirts and sweatpants. In the warmer weather, naked for sure!!
What exciting things are coming up for you?
Personally, career or things happening at Hot Springs??
Personally, I am currently moving into a bigger condo closer to family. I have lots of upcoming travel, my family visiting me for the first time in Toronto, meeting family for the first time in Panama (checking out my Panamanian connections), and figuring out my relationship status (it's complicated).
Professionally, I have joined forces with Char Travel, a lifestyle travel agency a few months ago. Looking forward to more lifestyle travel this coming year and working with existing companies to promote them through my blog and peers.
I love being on radio and will be back on Humble and Fred Radio again on March 12 2013.
Hot Springs: We have HypnoBruce (March 27) coming in for the first time, Annie the Fanny(April 10) doing figure drawing, and coming up in May 15 we have Reid Mihalko, Lawrence Lanoff, and Monique Darling http://mskittyintoronto.com/educational-events/
Please check out my link: http://mskittyintoronto.com/hot-springs-event-oasis-aqualounge/ for upcoming events.