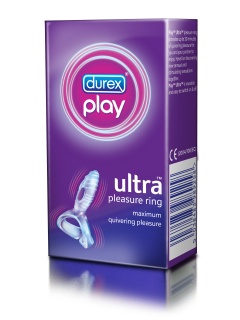 This is a curious little toy.
In an age when sex toys and devices are becoming more and more slick and stylish, the Durex Play Ultra kinda makes my cock look a bit like a rhinocerous. This is not to say it doesn't work, but I did have abit of a giggle when I first put it on.
Basically what we have in the Play Ultra is an attempt to improve ob the standard vibrating cock rings. It accomplishes this to an extent.
The rhino horn is a nice addition. Longer thab the standard vibrating bit of most cock rings, the Play's extends up, aiming directly at the clit. It seems to have potential to be pokey in a bad way in certain positions. However, most of thetime it will nestle right down between the two of you.
One innovation I am not so keenon is the split, harder ring. Whereas most cock rings are made of soft and expandable jelly, the Play Ultra is made of a harder, less flexible material. I found it uncomfortable, especially with some harder, grinding action. Also, you have to remember, it only has 30 minutes worth of charge. So, do you space it out in one try or save it for multiple, short sessions?
All told, Durex's Play Ultra is a pretty decent addition. The vibration is good and as long as you're not moving too hard or in more advabced positions, you'll do just fine with it. Just don't look down too often.