I don't know how to dance, but part of me has always wanted to learn. I even went so far as to take ballroom lessons with an ex, but she was as terrible a dance partner as she was a life partner and I couldn't wait to get out of both situations.
Much like a dance, bad situation or scene can cause you to lose interest in an exciting prospect fairly quickly. Particularly a sexual adventure. Sometimes it takes just one wrong slip (haha!) to derail a potentially amazing experience.
And one of those amazing experiences that most often goea from ON to OFF is using a strap-on.
As this activity has gained in popularity over the years, more and more companies are putting out harnesses and dildoes to get your peg on.
Unfortunately, a lot of these products are ill-fitting, difficult pieces of crap. Harnesses are the easiest to blame, and for good reason. Don't forget that care and consideration need to be taken when picking the right cock for you package. Some dildoes aren't designed for harness use and some just don't fit well, regardless what harness you use.
Fortunately, the brilliant folks at Happy Valley have come out with the best doubled-ended, vibrating, harness-compatible dong around: The Tango.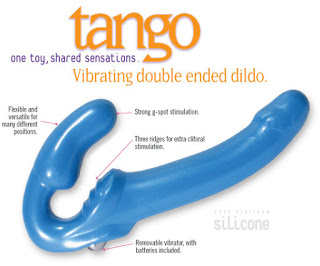 This is, without a doubt, one of the best sex toys I've ever tried.
It is a bit of a beast and I was a bit intimidated when I first saw it. Weighty, thick, long and bold, the Tango is for serious fucking. As it comes from Happy Valley, you can be assured it is made of high quality silicone and is of the best quality. Their toys are built to last and the ones I've had for 5-6 years are still going strong.
Designed as a double-end dildo, the Tango subverts the typical notion of one by not being long and straight. Instead it looks more like a check mark, with the short end intended for vaginal penetration and the long end being the a great dildo for sticking where you think appropriate. Beyond the shape of the small part of the checkmark, it also comes with a G-spot stimulatory as well as ridges at the base of the long part for clitoral stimulation. And what can I say about the long part? Its a big cock. Not overly huge, but it has some size to it and might not be suited for a beginner. But don't worry, you'll work yourself up to it!
My partner and helper in experimentation tried the Tango on for size and was impressed with all of these features. Then I added the removable vibe and things really took off from there!
We have an
Aslan Leather
harness and this toy fit into so damn well. It was like they were made for each other. The harness held the Tango in place perfectly, through easy and rougher action. And this is why it is such a great toy: both people using it will receive significant pleasure. If you're big on the idea of simultaneous orgasm, this toy can make it possible.