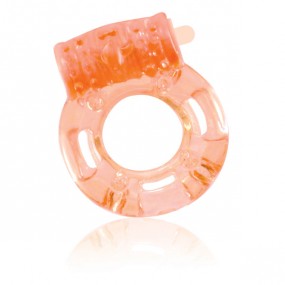 I've really got to stop looking at sex toys and laughing. Case in point: The Screaming O vibrating cock rings.
You know, these little doo-dahs are something I would have laughed at. I'm sorry, but they just look silly. Maybe I'm just too persnicky, but they usually come in garish colours and the rubbey bit looks a bit like a giant Fruit Loop.
However, these toys can be a very helpful (and inexpensive) tool if you're a dude looking to please a lady without trying that hard.
Let's face it: sometimes fucking is hard work. Even if you're laying on your back there is still positioning and stabilizing to worry about. But with a vibrating cock ring, you can get some good, eay motion going, while at the same time giving her a buzzy good time.
The Screaming O has an exceptionally cool feature: it activates via touch. Just put it on, press your parts together and fun fun fun!
Want to try something a little different? Get your Screaming O and another generic vibrating cock ring. Put the Screaming O on as you normally would, with the vibe positioned to hit her clit. Now take the generic one and put it on similarly, but this time reverse the vibe so that it heads down to your balls. Then, if you can, stretch it over your balls so that the vibe comes to a nice snug rest against your perineum. Turn both on for mutual electro-sensations. It is key to put the generic one on your taint, because you'll want it turned on, not reacting to touch.
As it turns out, the Screaming O vibrating cock ring is a nifty little addition to your tickle trunk. I can't promise they won't make me giggle, but they also make us smile.