Doc Johnson Long Anal Slider Vibe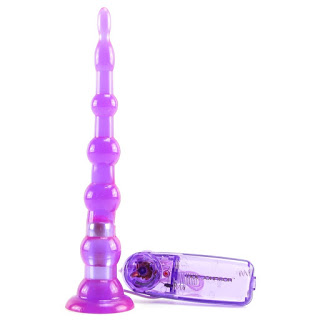 It took me a little while to give it a try, partly because it lives up to its name. It looks a bit scary long. Now, I've seen much longer in the shops. And I am pretty sure I've even put longer in my ass, but this did intimidate me a bit.
In general, I am not a big fan of vibrating butt toys, I really have to be in the mood. So when the right opportunity (ie, my cock) arose, I decided to check it out. Featuring beads of increasing diameter, it does slip in quite easily. And feels good. Until you get near the end. Beause of the length, I found getting the last bead in a bit difficult. Not painful or anything…it just didn't seem to want to get in there! And once I managed to get it in, I personally could have used a larger final bead to keep it in my ass.
I tried out the vibe and it is decent. Just enough for me. However, those who really like good ass vibrations might be disappointed. You really have to get it all the way in there to feel the vibration.
Overall, I'll peg this (haha) an okay toy that'll likely use on occassion. It is hard for me to recommend this to any particular group though. It is good for beginners, except for the length. And it is good for intermediates, except for the weak vibe. If you're really into ass toys, I wouldn't recommend Doc Johnson's Long Anal Slider at all.