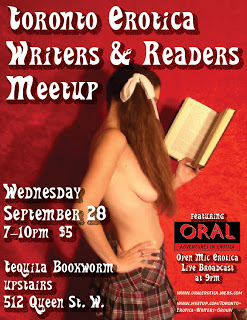 This will be our first Meet-Up! We will be mixing and mingling for the first part of the night and then at 9pm we'll host ORAL: Adventures in Erotica, an open mic erotica reading extravaganza that will also be streamed live online at:
http://www.spreaker.com/page#!/show/oral_adventures_in_erotica
This event is for writers, publishers and fans of written and spoken erotica.

http://www.meetup.com/Toronto-Erotica-Writers-Group/
$5 cover
Fantastic writer Myna Wallin, author of Confessions of a Reluctant Cougar, will be joining us to tell us about her writing and her recent trip to the Edinborough Fringe Festival. She is teaching a course in writing erotica this fall, check it out!
Be sure to bring your books, chapbooks, zines or other writings for sale or trade!
Myna Wallin is a poet, novelist and editor. She just came back from Edinburgh, where she read at Summerhall, part of the Canadian poets at the Edinburgh Fringe Fest. She's written two books: A Thousand Profane Pieces (Tightrope Books, 2006), and Confessions of a Reluctant Cougar (Tightrope Books, 2010). Her novel was recently long listed for the ReLit Award. Her poetry has received Honourable Mentions in both the 2009 Contemporary Verse 2-Day Poetry Contest and in Descant's Winston Collins 2010 Best Canadian Poem Contest. This fall she'll be teaching a course on Erotic Writing at U of T's School of Continuing Studies.
http://2learn.utoronto.ca/uoft/search/publicCourseSearchDetails.do?method=load&cms=true&courseId=17442426
We will meet in the upstairs space of Tequila Bookworm. Regrettably, this event is not accessible.